These are the victims of the Las Vegas shooting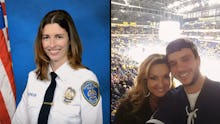 After Sunday's mass shooting in Las Vegas, the deadliest mass shooting in modern United States history, the names and identities of the 58 victims of the rampage have been released.
Some were Las Vegas residents and some had traveled from far away to attend the Route 91 Harvest Festival, a country music festival that was coming to a close when a gunman opened fire on the crowd from a nearby hotel room.
Here are some of the men and women who lost their lives.
Sonny Melton
Melton, 29, a Tennessee resident, was at the country music festival with his wife, Heather Melton, on a trip to celebrate their one-year anniversary, WSMV reported on Monday. A registered nurse who worked at the emergency room and ICU of Henry County Medical Center, Melton died on Sunday trying to protect his wife from the gunfire.
"He saved my life. He grabbed me and started running when I felt him get shot in the back," Heather Melton told WSMV. "I want everyone to know what a kind-hearted, loving man he was, but at this point, I can barely breathe."
Quinton Robbins
Robbins, a Las Vegas resident, was a recent high school graduate and had been enrolled at the University of Nevada Las Vegas, according to the Las Vegas Review-Journal.
In a Facebook post on Monday, Kilee Wells Sanders, who identified herself as Robbins' aunt, wrote, "My sweetest nephew has passed away. He was the most kind and loving soul. Everyone who met him, loved him. His contagious laugh and smile. He was truly an amazing person. He will be missed by so many, he is loved by so many."
Rachael Parker
Parker, 33, worked as a records technician for the police department in Manhattan Beach, California, according to a statement released by the police department. She had worked for the police department for 10 years, the statement said, adding that she "will be greatly missed."
Chris Roybal
Roybal, 28, of Corona, California, was a military veteran who had served in Afghanistan, KABC reported on Monday. He was at the concert Sunday night to celebrate his birthday. He was there with his mother, Debbie Allen, but the two were separated during the attack.
Allen told KABC that she spoke with a fireman who tried to save Roybal's life after he had been shot. "I spoke to the person who was with him when he got shot," Allen told KABC. "He saw Christopher take his last breath."
Carrie Barnette
Barnette, 34, lived in Southern California and was an employee at Disneyland in Anaheim, her relative, Janice Chambers, told the Arizona Republic on Monday. She was an animal lover who had a pet basset hounds, Chambers said.
"She spent many recent years caring for my aunt and uncle until they passed," Chambers told the Republic. "She was definitely grandpa's girl. She told me he loved hummingbirds and every time she saw one she'd say 'Grandpa's here.'"
Chambers said that Barnette's family was "in shock and devastated," adding, "She was a beautiful soul."
John Phippen
Phippen, 56, a resident of Santa Clarita, California, was at the music festival with his son, Travis Phippen, when he was shot in the back, the Los Angeles Times reported. Phippen's son, an EMT, carried him to a car and he was taken to a local hospital where he died from his injuries.
Phippen owned a home-remodeling company, according to the Los Angeles Times. "He was my best friend," Travis Phippen said. "He never did anything wrong to anybody. He was always kind and gentle. He was the biggest teddy bear I knew."
Rhonda LeRocque
Rhonda LeRocque, of Tewksbury, Massachusetts, was at Sunday's concert with her husband, Jason LeRocque, and their daughter, the Boston Globe reported on Monday. She and her husband were observant Jehovah's Witnesses and were active in their church at home, especially when it came to community service.
After Hurricane Katrina, they went on a church trip to help rebuild homes in Louisiana, according to the Globe. "They always were very helpful and I want to say mentors in a type of way — great people to talk, if you ever needed to talk and listen," LeRocque's sister, Jennifer Zelenski, told the Globe. LeRocque's husband and daughter were not inured in Sunday's attack.
Lisa Romero-Muniz
Romero-Muniz, 48, a mother and grandmother, was a resident of Gallup, New Mexico, the Arizona Republic reported on Monday. She worked as a counselor at the Hiroshi Miyamura High School. In a statement on Monday, school district Superintendent Mike Hyatt called Romero-Muniz "an incredible loving and sincere friend, mentor and advocate for students in many of our schools," the Arizona Republic reported.
"As a colleague, she was outgoing, kind and considerate of all those she worked with and we will miss all of these great attributes she shared with students, staff and parents in our community," Hyatt said.
Jennifer T. Irvine
Irvine, 42, was a San Diego attorney whose longtime friend described her to the San Diego Union-Tribune as smart and friendly. "She was like a little sister," Kyle Kraska, the sports director for San Diego's CBS News 8, who had known Irvine for 15 years, told the Union-Tribune. "I just adore Jen."
Irvine's colleague, Thomas Slattery, wrote in a Facebook post that Irvine was "kind, generous, and beautiful," the Union-Tribune reported. "She will be greatly missed," Slattery said. Irvine practiced family law, according to her website, and she had a number of interests outside the courtroom, including hot yoga, snowboarding and Taekwon-do, in which she had a black belt. She also hoped to try skydiving.
Susan Smith
Smith, 53, of Simi Valley, California was a school office manager and a mother of two, the Ventura County Star reported on Monday. A country music fan, she was beloved at the elementary school where she worked.
Jake Finch, a spokesperson for the Simi Valley Unified School District said that Smith was patient and kind, with "a great sense of humor," according to the Ventura County Star. Finch called Smith "the heart of the school."
"She was just such a sweet person," Lesley Prince, whose child attends Vista Elementary school, where Smith worked, told the Ventura County Star. "She's the one who told me my daughter was accepted here. I've known her for three years. She was just wonderful."
Adrian Murfitt
Murfitt, 35, worked as a commercial fisherman in Anchorage, Alaska, according to the Alaska Dispatch News. He was at Sunday's concert with his best friend, Brian MacKinnon, with whom he had traveled to Las Vegas for the music festival. The two were taking a photo together when Murfitt was shot, MacKinnon told the Alaska Dispatch News.
According to his family, Murfitt was a country music fan with a "beautiful singing voice," KTUU reported. He was devoted to his dog, a West Siberian laika named Paxson.
Mackinnon described Murfitt as "pretty much ... the best dude, ever," telling the Alaska Dispatch News that Murfitt was "always down to help you with a project. He was smart, talented, funny as hell. He was just a top-notch friend."
Bailey Schweitzer
Schweitzer, 20, a resident of Bakersfield, California, had been looking forward to the Route 91 Harvest festival in Las Vegas for weeks, Katelynn Cleveland, Schweitzer's friend and co-worker, told the Bakersfield Californian.
Schweitzer and Cleveland worked together at Infinity Communications, where Schweitzer was the receptionist. They referred to each other as "work wives," Cleveland said. In addition to her day job, Schweitzer also spent time helping out at the Bakersfield Speedway, a racetrack that her parents have owned since she was 5.
On Monday, Schweitzer's co-workers placed a single candle at her desk, according to the the Bakersfield Californian.
Neysa Tonks
Tonks, 46, was a Las Vegas resident and a mother of three sons — Kaden, Braxton and Greysen — the Las Vegas Review-Journal reported.
Originally from Utah, Tonks worked at Technologent, a software company. A GoFundMe that Technologent created to raise money for Tonks' children had raised more than $125,000 by Tuesday.
On the fundraising page, Tonks' employer described her as "a great mother, colleague and friend," and added that she had "brought so much joy, fun and laughter to Technologent."
Charleston Hartfield
Hartfield, 34, was known to friends as Chucky or "ChuckyHart," his friend of eight years Troy Rhett, told the Las-Vegas Review Journal. Hartfield, a sergeant first class in the Nevada Army National Guard and a Las Vegas police officer, was off-duty Sunday night.
He posted a photo from the country music festival on his Facebook page Sunday evening, the Las Vegas Review-Journal reported — just hours before the deadly shooting.
Hartfield, a married father of two, also coached youth football. "There's really no solace to this other than we know Charles, and he was probably doing his best to make sure others were safe and being helped," Rhett told the Las Vegas Review-Journal. "He was just so special. He's going to definitely be missed by many."
Sandy Casey
Casey, 35, a native of Redondo Beach, California, was at the country music festival with her fiance, Christopher Willemse, the Washington Post reported. The two had gotten engaged on a trip to New Zealand. Both Casey and Willemse worked as educators.
Casey was a special education teacher who had been at the Manhattan Beach Middle School in Manhattan Beach, California, for nine years, KABC reported on Monday.
In a statement, the school district superintendent, Mike Matthews, said Casey was "absolutely loved by students and colleagues alike and will be remembered for her sense of humor, her passion for her work, her devotion to her students, her commitment to continue her own learning and taking on whatever new projects came her way."
Jordan McIldoon
McIldoon, 23, was a resident of Maple Ridge, British Columbia, CBC News reported. He had gone to Las Vegas to attend the festival with his girlfriend.
His parents, Al and Angela, said McIldoon was a "self-described cowboy boot, tattoo-covered redneck who loved the outdoors"
McIldoon was a mechanic apprentice and was about to begin attending a trade school, according to the CBC. He was scheduled to return home on Monday. "We only had one child," McIldoon's parents said, the CBC reported. "We just don't know what to do."
Angie Gomez
Gomez, 20, loved country music, and had traveled to the music festival with her longtime boyfriend, Ethan. Her sister, Tawny Finn, told NPR that the young couple were childhood sweethearts.
"[Ethan] was just telling me, like, that day at lunch that he was just telling her that he would never want to be with anybody else and how they had plans - when they were going to get married, when they were going to have kids," she said.
Austin Davis
Davis, 29, was in Las Vegas for a "guy's trip" when he and his friend, Thomas Day, were killed, according to a GoFundMe page set up by a family friend. A pipefitter from Riverside who was passionate about softball, country music and his girlfriend of nine years, Davis was the kind of man who would "drop everything to be with one of us," Courtney Belger, one of Davis' best friends, told the Press Enterprise.
"Austin didn't half-a** anything in life," the GoFundMe page reads. "If he knew u, he loved you. That's just how he cared for people."
Bill Wolfe, Jr.
Wolfe, a 42-year-old father and a Little League and youth wrestling coach, loved his tight-knit community in Shippensburg, Pennsylvania, Tony Yaniello, head coach of Shippensburg High School's varsity wrestling team, told the Philadelphia Inquirer.
"He's built a legacy as a coach in the community," Yaniello said. "There's so many people who are upset about this. He's going to truly be missed."
Wolfe has been attending the Route 91 Harvest Festival with his wife, Robyn, for their 20th wedding anniversary.
Brennan Stewart
Stewart, a 30-year-old Las Vegas native, loved hunting, dirt biking and singing — especially country music, according to a statement his family provided to the Las Vegas Review Journal.
"Brennan made close friends quickly; was loved and will be missed greatly by family and friends, but his memory will live on," the statement read.
Calla Medig
Medig, a 28-year-old woman from Edmonton in Alberta, Canada, was a regular at the Route 91 Music Festival and had taken time off from work to attend, her boss told the Canadian Press.
"This had started to become an annual thing for her, I believe it was her third trip," Scott Collingwood, who worked at Moxie's restaurant with Medig, said.
"Calla was among the kindest and warm-hearted, beautiful souls I have ever had the pleasure to know," another former coworker, Bailey Huebner, wrote on Facebook. "Her smile made such a positive impact on my life."
Cameron Robinson
Robinson, 28, was city of Las Vegas employee who loved to "cook, entertain, run marathons, travel, go camping, boating, and the outdoors in general and above all surround himself with those he loved and others," according to a GoFundMe page established in his name.
He had been attending the festival with his boyfriend when he was shot in the neck, his sister told the Las Vegas Review Journal.
Carrie Parsons
Parsons, 31, graduated from Arizona State University in 2008 and had recently gotten engaged in Hawaii.
She had been attending the music festival as part of a girl's trip, according to Seattle ABC affiliate KOMO.
"It's just heartbreaking," one of Parsons' friends, Laura Cooper, told the site. "I woke up yesterday to the news and I just had a bad feeling. Immediately, I texted her 'Please tell me you're ok, please tell me you're ok.'"
Christiana Duarte
Duarte, 22, graduated from the University of Arizona in May and was fatally shot at the Route 91 Harvest country music festival.
"To me, she was just kind of the all-around girl," Gerald Laird, her cousin, told local news site the Daily Breeze. "She was young, beautiful. Her life was just starting."
An alumna of Sigma Kappa's Zeta Omicron Chapter, Duarte was memorialized by the sorority on its Facebook page on Tuesday.
"Words cannot describe the heartache we are all feeling for Chrissy and her loved ones today as the entire Sigma Kappa Sisterhood is in mourning," the post read.
Brett Schwanbeck
Schwanbeck, 61, of Bullhead City, Arizona, was at Sunday's concert with his fiancee, Anna Orozco, the Mohave Valley Daily News reported Friday. They were planning to get married in January, according to local Arizona outlet ABC15.
When he was shot, his fiancee, a nurse, helped rush him to a hospital. Schwanbeck was taken off life support and died Tuesday, "surrounded by friends and family," according to ABC15.
A father of three and grandfather to five, Schwanbeck was retired. In a GoFundMe page launched by his family, one of Schwanbeck nieces wrote that her uncle "loved his family dearly and cherished lake trips, family gatherings, hunting, camping and spending time with his kids and grandkids."
Austin Meyer
Meyer, 24, of Reno, Nevada, was in Las Vegas with his girlfriend, celebrating his 24th birthday and their upcoming anniversary, his sister, Veronica Meyer, told KSBW. Meyer described her brother as a "joy to be around" and said he was passionate about cars and basketball — his favorite team was the Boston Celtics.
According to his sister, Meyer had recently moved from California to Nevada to attend Truckee Meadows Community College, where he was studying transportation technologies. "He had dreams of opening his own auto repair shop after graduation. He was excited to get married and start a family," she said.
Pati Mestas
Mestas, 67, of Menifee, California, loved seeing live country music, her friend Isa Bahu, told the Las Vegas Review-Journal. Mestas, a mother and grandmother, was the "life of the party," according to Bahu, and she "lived" for her grandkids.
"She definitely wasn't shy," Bahu said. "She was a fun-spirited woman, who always made you laugh. She always liked to be in a good mood and liked to have fun."
Nicol Kimura
Teresa Nicol Kimura, 38, preferred to go by Nicol, the Orange County Register reported. A resident of Placentia, California, Kimura had come to the Route 91 Harvest festival with a group of friends, including her friend Ryan Miller, a pastor at a California church.
"She had the most infectious laugh and personality," Miller told the Orange County Register. "She was always loving and considerate to her friends. Her spirit will live on with us forever."
Miller started a GoFundMe page to raise money for Kimura's family. On it he wrote that Kimura "made you jealous of how much she loved life."
Christopher Hazencomb
Hazencomb, 44, of Camarillo, California, was at Sunday's music festival with a friend, the Las Vegas Review-Journal reported. His mother said she believed he tried to protect his friend from the gunfire.
Hazencomb worked as a cashier at a local Walmart, where he often brought in coffee for his coworkers, a friend told the Review-Journal. In addition to being a country-music lover, he was also a fan of the Los Angeles Angels, a team he'd loved since childhood.
Hazencomb had celebrated his birthday with his mother, Maryanne Hazencomb, just days before his death. Hazencomb told the Review-Journal that her son loved people and had a big heart.
Andrea Castilla
Andrea Castilla, 28, of Huntington Beach, California, was celebrating her birthday Sunday night when she was fatally shot, ABC News reported. She was there with her boyfriend, Derek Miller, and her sister, Athena Castilla. Miller had been planning to propose, ABC News reported; he was just waiting for the right moment. "I told him, she would have said 'yes' immediately," Athena Castilla told ABC News.
Castilla was on the soccer and swim teams in high school, the Los Angeles Times reported. She attended Cypress College and worked at a Huntington Beach Sephora.
Friends remembered her as a talented artist and a compassionate friend. Castilla's mother died of cancer when she was a teenager, according to the Los Angeles Times, and her father raised Castilla and her three siblings.
According to the Los Angeles Times, Castilla's older brother, Adam Castilla, wrote in a Facebook post Wednesday, "I can't even close my eyes without picturing the joy you brought to me and this world. … Never have I had something so precious ripped from my life. I am completely shattered."
Carly Kreibaum
Kreibaum, 33, lived with her husband, Chris Kreibaum, on a farm just outside of the small Iowa town of Sutherland, the Des Moines Register reported. A mother of two young children, Kreibaum worked at a nearby Walmart.
She had gone to Las Vegas for the music festival, accompanied by two friends. "The kids were just starting school. It's a horrible, horrible thing," Dan Wetherell, a librarian and a cook at a local Sutherland bar, told the Des Moines Register. "She was a kind, loving mother, just working and taking care of her children."
Steve Berger
Berger, 44, a resident of Minnesota's Twin Cities, had come to Las Vegas with a group of friends to celebrate his birthday, the Star Tribune reported. A father of three children, ages 8, 11 and 15, Berger worked as a financial adviser.
"He was charismatic, full of energy and breathed life into every room. He was always so positive," Berger's friend and former college roommate, Josh Decker, who was with him in Las Vegas, told the Star Tribune. Decker and Berger worked together at EFS Advisors, a financial company in the Twin Cities. "I watched my friend die in front of me," Decker told the Star Tribune.
Brian Fraser
Fraser, 39, of La Palma, California, was at Sunday's music festival with a group of almost 20 friends and family, the Orange County Register reported, including his wife, his son and his daughter-in-law.
Fraser was a father of four, who loved fishing and snowboarding and had recently gotten his private pilot's license. "He served as my rock and my mentor," Nick Arellano, 25, Fraser's stepson, told the Orange County Register. "He became my dad and my father figure. He helped anyone who asked. That's why people loved and adored him."
Derrick "Bo" Taylor
Taylor, 56, of Oxnard, California, was at Sunday's music festival with his girlfriend, Denise Cohen, who was also killed. A 29-year veteran correctional lieutenant with the California Department of Corrections and Rehabilitation, Taylor worked at the Ventura Conservation Camp, in Camarillo, California, where he led a team of inmates fighting wildfires, the Las Vegas Review-Journal reported.
"The relationships between the officers and the inmate firefighters is much more personal," Department of Corrections and Rehabilitation spokesperson Bill Sessa told the Las Vegas Review-Journal. "The officers take a lot of dedication to helping these inmates turn these lives around."
Denise Cohen
Cohen, 57, of Carpinteria, California, was with Derrick "Bo" Taylor at the music festival on Sunday. The Bay Area native and mother worked as a property manager, KSBY reported.
Cohen's son, Jeff Rees, who lives in Vancouver, Washington, told KSBY that he didn't know his mother was going to the Route 91 Harvest music festival. He didn't find out she was there until his wife told him.
"She was a rare person. She really, really was and anyone who's ever known her or talked to her could all say the same thing," Rees told KSBY.
Oct. 6, 2017, 4:29 p.m.: This story has been updated.