Jimmy Kimmel delivers emotional appeal for Washington to address gun violence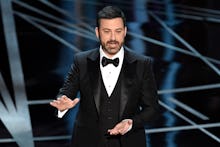 Late night host Jimmy Kimmel took the stage during his Monday night show to deliver a gut-wrenching monologue, while fighting back tears, in tribute to the victims of Sunday night's shooting in Las Vegas.
With his voice breaking from the start, Kimmel, a Las Vegas native himself, recounted the horror that had unfolded on a crowded stretch of the Strip one night earlier as country music concertgoers suddenly found themselves under fire from a lone gunman perched inside a 32nd-floor hotel room at the nearby Mandalay Bay Resort and Casino:
This morning, we have children without parents and fathers without sons, mothers without daughters. We lost two police officers. We lost a nurse from Tennessee. A special-ed teacher from a local school here in Manhattan Beach. It's the kind of thing that makes you want to throw up or give up. It's too much to even process — all these devastated families who now have to live with this pain forever because one person with a violent and insane voice in his head managed to stockpile a collection of high-powered rifles and use them to shoot people.
The incident — which left at least 59 dead and more than 500 injured, and has been widely recognized as the worst mass shooting in modern United States history — is all too familiar for Americans who remember the nightmarish scene that unfolded at Pulse nightclub in Orlando, Florida, just over one year earlier.
But despite the increasing familiarity of the violence, Kimmel said, deadly attacks like Sunday night's don't have to be routine in America — and yet, Republican leaders, in failing to take meaningful action on gun law reform, allow it to be so.
"I don't know why our so-called leaders continue to allow this to happen," he told his audience. "Or maybe a better question — why do we continue to let them allow it to happen?"
He called out Republican congressional leaders Mitch McConnell and Paul Ryan by name, suggesting that while they sent "thoughts and prayers" to Las Vegas, they should actually "be praying to God to forgive them for letting the gun lobby run this country."
Getting political is nothing new for Kimmel, who recently used his platform to repeatedly hammer the GOP over its attempts to pass an Affordable Care Act repeal bill that would have left millions more Americans uninsured.
"I want this to be a comedy show," Kimmel said on Monday night. "I hate talking about stuff like this. I just want to laugh about things every night, but that — it seems to be becoming increasingly difficult lately. It feels like someone has opened a window into hell."