Ryan says mental health reform can stop shootings — yet GOP eased gun laws for mentally ill people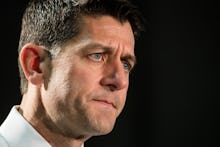 House Speaker Paul Ryan said Tuesday that lawmakers can help prevent mass shootings by working on mental health reform.
"Mental health reform is a critical ingredient to making sure we can try and prevent these things from happening," Ryan said at a news conference about how Congress can help prevent more mass shootings, such as the one Sunday night in Las Vegas that killed at least 59 and wounded more than 500 others.
After listing mental health reform as a way to prevent gun violence, a reporter then asked Ryan why the GOP rolled back a rule that prevented people with severe mental illnesses from purchasing guns.
"Was it a mistake to make it easier for mentally ill people to get a gun," CBS News reporter Nancy Cordes asked.
Ryan scoffed, didn't answer her question and then called on another reporter, who asked the same question.
"There were people whose rights were being infringed," Ryan replied. "It's a little more complicated than you described."
The rule the GOP rolled back was created during former President Barack Obama's term in response to the shooting at the Sandy Hook Elementary School. The shooter, Adam Lanza, had a number of mental illnesses, including Asperger syndrome and obsessive-compulsive disorder.
The rule sought to strengthen National Instant Criminal Background Check System by requiring the Social Security Administration to share information about people with mental impairments who have an outside party manage their Social Security benefits.