Ikea's hydroponic garden concept uses 90% less water than a regular farm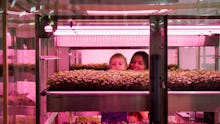 Ikea is known for its low-cost furniture that comes packed in cardboard boxes, but now it's experimenting with something entirely different: Cutting-edge indoor farming.
At the London Design Festival in September, Space10 — Ikea's "future-living" design lab — debuted its concept for a salad bar prototype whose ingredients are grown using an indoor hydroponic farming system.
"Hydroponic farming allows microgreens to be grown without soil, using nutrient-enriched water, LED lights and computerized automation [and] ensuring the plants can enjoy a perfect spring day every day," a Space10 representative said in a news release. "Thanks to hydroponics, microgreens can grow up to three times faster than in fields using 90% less water. This method produces much less spoilage and can be done locally, making it much more sustainable when powered by renewable energy sources."
These kinds of urban hydroponic farming concepts are nothing new — for example, Bowery Farming already grows its food indoors — but Lokal is more of a small-scale, automated concept designed to provide food for a single restaurant. Space10 said its next iteration of Lokal's design will include sensors, machine learning and integration with Google Home.
"That will enable people to 'talk' to the greens and understand their growing conditions and nutrient needs," according to Space10's news release.
It's still nothing more than a prototype, but if Ikea decides Lokal is worth pursuing further, it could be used to grow the food served within Ikea's cafeterias onsite, for example. Or maybe Space10 could use the technology in Lokal for its existing line of indoor gardening products, empowering apartment dwellers, families or small restaurants to grow their own greens.
In an email to Mic, a representative for Space10 said the reception for Lokal in London was so positive that Ikea is now exploring the idea of bringing the concept to fruition, so it's not outside the realm of possibility. In fact, out of 100 recipients polled about the salads they ate that were grown using Lokal, only one guy said he didn't like it — because it didn't have any meat.
You can't please everyone, I guess.
Oct. 3, 2017, 2:40 p.m.: This story has been updated.