Introducing chinning, the Instagram pose fighting against ridiculous social media beauty standards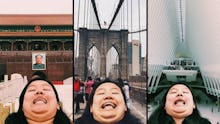 Picturesque beach sunsets, shining architectural monuments and mouthwatering food porn — expertly curated social media feeds can make anyone's routine life feel underwhelming, especially when said 'grams are underscored with a humblebrag caption.
And yet: One travel-focused Instagrammer has us feeling true joy with her wanderlust-inducing 'grams and punny captions. The account @chinventures documents 21-year old Michelle Liu's travels with striking selfies in front of landmarks around the globe. Liu has taken to snapping selfies at an angle that distorts her face, a process she calls "chinning." It's essentially the antithesis to the notorious but universally flattering high-angle selfie.
In an age when people download apps to photoshop their pimples, whiten their teeth and blur their under-eye bags in an effort to conform to society's beauty standards, Liu's photos are a fun reminder to not take Instagram — or ourselves — too seriously.
Liu's been "chinning" for years now. "My chinning entertained my friends all through middle school, high school and college, at which point I decided to share my chin with the world," Liu said in an email. She launched the account when studying abroad in Vienna in September 2016. And now she's chinned around the world.
Liu has chinned in Prague
She's chinned in Brooklyn
She's graced Amsterdam with her chinning
And she's chinned in Beijing
Liu said her chinning began because she saw value in "looking silly" and feeling comfortable in her own skin. Though she felt pressure to "look a certain way" in middle school, she shed her insecurity and began embracing her quirky side by taking chinning photos.
She takes the photos on her iPhone with the help of a trustworthy selfie stick. "Strangers always notice me chinning," she said. "Some appear shocked, others confused, but across the board from my experience, they are usually entertained."
One of Liu's favorite photos was taken with four flight attendants: "I never know how strangers will respond when I explain my account and ask them to take 'chinfies' with me but this particular crew was so friendly and open to the idea," she said.
Liu isn't setting a limit on her chinning dreams: "I want to be chinsta-famous," she said. Here's hoping "Chin-chelle" (that's how she signs her emails, so you know she's committed to the cause) starts a chinning movement.