Plus-size model Precious Lee is here to show you what a supermodel in 2017 looks like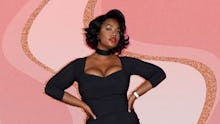 Precious Lee has had the kind of modeling career that's left her crying on a street corner in New York City. Happy tears though, of course, happy tears.
It was August 2015. The always highly anticipated September issue of Vogue had just come out. Beyoncé was on the cover, and if you flipped a few pages, there was Lee's silhouette, on the far right in an ad for Lane Bryant that announced to all Vogue readers: #PlusIsEqual.
"It was just too much," Lee said in a phone interview with Mic. "That was it for me. I remember I was leaving the gym, and I was walking past this newsstand. I'm searching through the pages, and I couldn't find it. Then I found the page. I literally cried at the corner of 6th and 14th."
By appearing in that ad, she became the first black plus-size model to ever appear in American Vogue.
Lee has had plenty of other trailblazing moments too. In 2016, while Lee's friend Ashley Graham was making history as the first plus-size model to appear on the cover of the Sports Illustrated Swimsuit Issue, a few pages in, Lee was doing the same thing: making history as the first black, plus-size model featured in the Sports Illustrated Swimsuit Issue. Yet again, it was via a Lane Bryant ad, which featured Lee lying down on her side, with cropped hair, in a white bikini.
"It was me in a bikini, with visible stretch marks and a short haircut," Lee said. "No makeup. And it was like, 'OK, this is crazy.' For me, it's just so amazing to see that I'm changing things. I'm a part of things actually changing. And Sports Illustrated? You don't see even black straight-sized models in that magazine. For me, to be in it and be that size, it was just simply inspiring for me."
After nine years in the industry, and a current contract with the major modeling agency IMG, Lee has absolutely seen things change right before her eyes. She first started modeling in Atlanta, after going to an open call with a friend (who admittedly dragged her there), and then walking out with a contract. At that time, she didn't see herself becoming the dynamite model she is now, but actually an entertainment attorney. She wanted to help people, and be a voice for people who don't have one.
But while working odd modeling jobs in Atlanta, doing catalog work and local TV news segments, she realized that as a model, she could actually help people.
"I'm a size 14 and 16, and being the black, darker-skinned, bigger girl in the fashion industry is something that clearly makes me unique," Lee said. "I'm doing this to make people who look like me see me in this light and succeeding. I want people to realize that someone like me in the fashion industry should be normal."
After moving to New York City five years ago, Lee has had a bit of a meteoric rise. She's modeled for Christian Siriano at New York Fashion Week, and Addition Elle.
She's landed multiple campaigns with Lane Bryant, and has worked with Old Navy, Nordstrom, Saks Fifth Avenue, Torrid and Target, the last of which shocked even Lee's own mother.
"When my mom saw me in that Target ad, she couldn't believe it," Lee said. "When I had done that, I had never seen a size-14 girl, a chocolate girl with a pixie haircut, dancing around in a bikini. I feel like I've been a part of the change, and have opened up the doors. You may see me more in campaigns, but you also see more chunky brown girls other than me too."
That's what's fueling Lee's desire to do more, more, more. She's seen the impact her mere presence has had already, and only wants to see more black women, and black plus-size women, thrive in the industry.
"I've had men come up to me like, 'I'm so happy to see you on the side of this bus," she said. "My little girl can see that you don't have to be a size 0 to succeed. When people are in the middle of a revolution, they're not thinking about what's changing and why. It takes people to stop me on the street for me to realize, because I'm so much in the work. But when you wake up and see it, when you're crying on the corner, you can't deny the manifestation that is happening."
At New York Fashion Week, there were more plus-size models than ever before, and it was the most racially diverse on record, too. So Lee is probably right. We're living through a revolution, with women like Lee paving the way.