A majority of House Democrats and Republicans support a pathway to citizenship. Now what?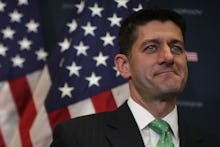 Welcome to Mic's daily read on Donald Trump's America. Want to receive this as a daily email in your inbox? Subscribe here.
Every day, we bring you a different dispatch on Trump's America. Today's focus: DACA hope.
Wednesday's dispatch: Why immigration activists say a pathway to citizenship is within reach
On its face, the math does not appear to favor a pathway to citizenship for people who immigrated to the U.S. as children.
Republicans control the House. Conservatives there are saying they will not support citizenship for people who came to the U.S. illegally without a substantial increase in border security — including wall funding.
President Donald Trump won the White House, in part, by promising to enact stricter immigration policy. Earlier this year, he rolled back the Deferred Action for Childhood Arrivals program. That created a window for Congress to protect current recipients of DACA, which allowed immigrants who came to the U.S. illegally before they were 16, remain in the country.
But below that surface analysis, a flurry of activity on Capitol Hill and movement in public opinion has immigration advocates feeling confident about their shot at creating a pathway to citizenship.
The Dream Act and the Recognizing America's Children Act would both create a path to citizenship for people who came to the U.S. as children. Taken together, those two pieces of legislation have enough co-sponsors to pass the House — with support from 228 representatives, well above the necessary 217 votes.
The RAC proposal was introduced by Republicans and is more conservative than the Democrat-backed Dream Act, which was first introduced as bipartisan legislation in 2001. But either would be a victory for groups looking to protect "dreamers," the nickname for children protected by DACA.
Recent polling shows around 80% of Americans favor a pathway to citizenship for DACA recipients, including more than 60% of Republicans. Key Senate Republicans have suggested they're open to protecting DACA recipients without border wall funding. And even Trump has said he is looking for a way to convince Republicans to support a pathway to citizenship.
"It doesn't mean this is done or a foregone conclusion," said Peter Boogaard, communications director for Fwd.Us, an immigration rights advocacy group. "But this feels different than other instances where we've gotten close to being able to [pass immigration reform]."
This support for a pathway to citizenship both inside and outside Congress clashes with the fact that House Speaker Paul Ryan said he would not advance immigration legislation without support from a majority of Republicans. Ryan must square that with the reality of a March 5 deadline when DACA recipients can no longer renew their legal status — and 1,400 people each day will lose their ability to work.
A senior aide to the Congressional Hispanic Caucus said the tactics Democrats are employing to push Republicans toward a pathway to citizenship run the gambit of "force, convince and play nice."
Here's what that looks like: Almost every House Democrat — and one Republican — have signed onto a discharge petition that would force a vote on the Dream Act. Minority Leader Nancy Pelosi (D-Calif.) helped broker a deal with Trump last month in the hopes of passing the Dream Act without border wall funding. That funding is a must for some Republicans and a no-go for many Democrats. And immigrant groups are simultaneously organizing protests and meetings with House members to advance a pathway to citizenship.
Zakaria Farah, 25, moved to the U.S. with his mother and three siblings when he was 9. Now a junior at Ohio State University studying environmental engineering, Farah is one of more than 115 DACA recipients from 25 states who will hold more than 100 meetings on Wednesday with Capitol Hill staff. Some of those meetings will be with Republicans who have been publicly noncommittal about a pathway to citizenship, Boogaard said.
"I am an American," Farah said he'll tell members of Congress when asked to justify DACA. "I was raised here. That's not something a piece of legislation can take away."
"There is so much gray in the immigration system and we're just trying to get in the black."
Of note: After Thursday, DACA recipients whose status in the program expires between Oct. 5 and March 5 will not be able to renew their DACA eligibility. Tens of thousands of eligible DACA recipients are expected to not renew by Oct. 5 due to a lack of notice, expense or fear of government retribution.
Today's question: Does it politicize a tragedy to talk about it? Or does not talking about ways to prevent it from happening again politicize the tragedy?
Please email us at trumpsamerica@mic.com. And sign up for the newsletter to read the conversation.
Wednesday in Trump's America:
In the wake of Las Vegas, Republican leaders made clear on Tuesday they will not take action on gun control legislation. Paul Ryan faced criticism Tuesday for saying mental health reform can help prevent mass shootings —despite the GOP having made it easier for people who are mentally ill to buy guns.
Authorities found 12 guns in the suspected shooter's hotel room armed with bump stock devices — devices that make semi-automatic rifles fire automatically — which are legal. Those were among 23 total guns found in the hotel room.
Mic breaks down the gun control proposals that have broad support among Americans but do not necessarily have broad impact. And we spoke with people abroad for their impression of the U.S. after the deadliest mass shooting in modern American history.
These are the victims of the Las Vegas shooting. And here are photos leaked from inside the suspected shooter's hotel room.
In Puerto Rico, Trump told officials the hurricane had thrown the U.S. budget "out of whack." (He also said the U.S. will be ordering "hundreds of millions of dollars" in new jets — after saying it would be difficult to fund Puerto Rico's relief.) Trump said the island's death toll was lower than the death toll of Hurricane Katrina, seeming to suggest the government's response had been effective.
Some of the Russian-bought Facebook ads during the 2016 election targeted voters in Michigan and Wisconsin — states that were crucial to Trump's victory. The senators leading the investigation into Russian interference are holding a press conference at 12:15 p.m.
The chief of staff to Vice President Mike Pence suggested a "purge" of Republicans who do not back Trump's agenda.
With the backing of progressive groups, Randall Woodfin handily beat the Democratic mayor of Birmingham, Alabama, in a runoff election on Tuesday night. The 36-year-old campaigned on lowering the city's homicide rate, making community college free and investing in pre-kindergarten education.
Today's MicBite:
In 1996, Congress passed a law that prohibited federal agencies from funding research that could be used to advocate for gun control. Tap or click the video below to learn more.