San Juan mayor blasts Trump as "miscommunicator in chief" following president's Puerto Rico visit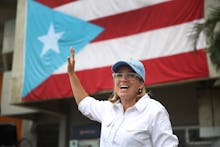 A new poll has revealed that the American people don't approve of how President Donald Trump is handling the relief efforts in Puerto Rico — and an interview with San Juan mayor Carmen Yulín Cruz makes it clear his Tuesday visit to the hurricane-ravaged island didn't help.
In an appearance on MSNBC Tuesday night following Trump's Puerto Rico stop, Cruz slammed the president's visit to the island as a public relations stunt, pointing out that "there was no exchange with anybody, with none of the mayors."
"In fact, this terrible and abominable view of him throwing paper towels and throwing provisions at people, it does not embody the spirit of the American nation," Cruz said.
"That is not the land of the free and the home of the brave, that beacon of democracy that people have learned to look up to across the world." 
The San Juan mayor even described Trump's appearance as "insulting to the people of Puerto Rico," after the president used his appearance to highlight the relief efforts' effect on the federal budget and say the hurricane was not a "real catastrophe" like Hurricane Katrina.
"He kind of minimized our suffering here by saying that Katrina was a 'real' disaster, sort of implying that this was not a real disaster, because not many people have died here," Cruz said on MSNBC.
"Well, you know what? They're dying," she emphasized.
Cruz said Trump's ineffective appearance highlighted the president's "communication issue," calling him the "miscommunicator in chief."
"You don't go to another place when people are in peril and are suffering, and you just kind of hover around in a helicopter without having some kind words to say," Cruz said. "It's just common courtesy."
Though the mayor has issues with Trump's response, she praised the White House staff, which she said "seemed to want to approach this a different way." Cruz tweeted Tuesday that she had a "productive" meeting with Trump's staff, which made her hopeful their new lines of communication "will put in motion what is needed to accomplish our goal: save lives."
The president's visit to Puerto Rico and ongoing tension with Cruz, whom he criticized on Twitter Saturday, are the latest blunders in Trump's widely criticized response to Hurricane Maria — and the American people are taking notice.
A new poll released Wednesday, which was conducted prior to Trump's Puerto Rico visit, revealed that most Americans don't approve of the president's approach to relief efforts in Puerto Rico.
According to the Associated Press-NORC Center for Public Affairs Research poll, just 32% of respondents approve of how Trump is handling relief efforts in Puerto Rico, while 49% disapprove. In comparison, 48% approve and only 27% disapprove of the president's response to hurricanes in the continental U.S., such as in Texas and Florida.
"He didn't do a tremendous job in the states, but it's not quite as disturbing and horrific as his response in Puerto Rico," Tara Blesh-Boren, a registered independent from Lincoln, Nebraska, told AP. "He is so busy getting his ego involved in these ridiculous back-and-forth arguments about things that don't matter to anyone but him that he is really not managing our country."