Rex Tillerson denies he considered resigning, but would not deny he called Trump a "moron"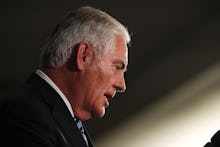 Secretary of State Rex Tillerson sought to clear the air in a Wednesday morning statement, denying a a bombshell report from NBC News that said Vice President Mike Pence had to talk Tillerson out of resigning back in the summer.
"The vice president has never had to persuade me to stay on as secretary of state, because I have never considered leaving this post," Tillerson said at an unscheduled announcement from the State Department Wednesday morning.
The report also said that Tillerson called Trump a "moron" — an anecdote Tillerson refused to address.
"I'm not going to deal with petty stuff like that," Tillerson said.
However during his remarks, Tillerson called Trump "smart," adding that Trump has "foreign policy goals break the mold."
Tillerson's comments come as his fraught relationship with Trump has spilled out into the open in the week prior to the announcement.
Trump publicly criticized Tillerson on Twitter, chastising his top diplomat for trying to work out a diplomatic solution with North Korea.
"I told Rex Tillerson, our wonderful secretary of state, that he is wasting his time trying to negotiate with Little Rocket Man," Trump tweeted. "Save your energy Rex, we'll do what has to be done."
But Tillerson denied that he ever considered leaving his job at the State Department.
"While I'm new to Washington, I have learned that there are some who try to sow dissension by tearing others apart in an effort to undermine president Trump's own agenda," Tillerson said.
Trump, for his part, appeared pleased with Tillerson's statement, saying NBC's report had been "totally refuted" by Tillerson, and said that NBC News "should issue an apology to AMERICA!"
NBC News' Hallie Jackson said on air that NBC "will not be issuing an apology to America."
However, Tillerson would not deny that he called Trump a "moron," per NBC News' reporting.
Stephanie Ruhle, one of the NBC News reporters whose byline appears on the initial report, doubled down on her reporting following Tillerson's statement.
"My source didn't just say he called him a moron. He said he called him fucking moron," Ruhle said.
Oct. 4, 2017 11:44 a.m.: This article has been updated.