NRG Esports bragged about the diversity of its 'Overwatch' team. Zero women were invited to try out.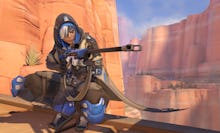 Overwatch is a wildly popular competitive multiplayer shooter that depicts an aspirational, inclusive, futuristic, sci-fi world. It has a female fanbase twice the size of other first-person shooters and a queer fanbase of a scale that's anything but common for games of this sort.
However, early signs indicate that its official professional league — modeled after sports leagues like the NBA — will continue to reinforce the notion that esports are a boys-only zone.
On Sept. 28, NRG Esports — a company that owns a number of teams who participate in professional gaming competitions — announced the lineup of its San Francisco-based team that'll participate in this Overwatch League. All eight members of NRG's Overwatch team — dhaK, Danteh, IDDQD, Super, Babybay, Sleepy, Nomy and Sinatraa — are men.
The Overwatch League — which promises $50,000 minimum salaries and benefits for its players — is scheduled to begin its inaugural season in January, featuring 12 teams based in various cities around the world. In the time leading up to the season's start date, team owners are starting to announce what players they have signed to their teams.
The deadline for teams in the Overwatch League to finalize their rosters is Oct. 30. So far, just one other team — the one based in Seoul, South Korea — has announced its final roster. Every player on Seoul's team is male as well.
In a phone interview with Mic following the announcement of NRG's lineup, Andy Miller, the chairman of NRG Esports, characterized its roster as a reflection of the diversity of San Francisco and of the player base of Overwatch itself.
"We wanted to have a team that was reflective of San Francisco and North America," Miller said. "So, our team is not a full Asian team, it's not a team full of pros who have been at it since the beginning or just guys with big personalities. It's folks, guys who are great at their job, who we think play well together as a team, that represent different ethnicities and different parts of the country. But hopefully we'll do San Francisco proud and be reflective of the people playing the game."
When asked whether NRG had invited any women to try out for the team during its recruiting process, Miller confessed that it did not. (As of the 2010 census, San Francisco was 49.3% female.)
"I don't think there was a woman player who was recommended to us or who contacted us who was ranked high enough or had the gaming experience to play for the team," Miller added.
The reason NRG didn't invite any women to try out is probably multifaceted. Miller said there simply weren't any women who met the team's standards. If that is indeed the case, it's a problem likely rooted in a lack of women in esports more generally.
"It is fairly obvious — in American society, at least — that men are more often encouraged to pursue hobbies in gaming, coding and other interests that are typically labeled as masculine," Lilian Chen, a competitive Super Smash Bros. Melee player and co-founder of Smash Sisters, a competitive Melee organization for women, told Polygon in 2014. "My guess is that after decades, these founding effects snowballed, thus causing the genre imbalance we have today. We are now stuck playing catch-up trying to reverse the effects."
When women do show up in professional esports, they are often met with huge amounts of toxicity and harassment. For example, after Maria "Remi" Creveling became the first female player to appear in the League of Legends Championship series, she quit just six matches later, "citing anxiety and self-esteem issues," according to the Meta, which reported she experienced a "near constant deluge of abuse and harassment" online from spectators.
Only a small number of women have participated in the professional Overwatch scene thus far. For example, there is an all-female Overwatch team owned by Malaysian esports company M8 Gaming, called M8 Tempest. An Overwatch player, who goes by "Kitty," was a part of France's team in the Overwatch World Cup in 2016. Ye "177" Qianqian plays for the Chinese team Lucky Future. Another player, Kim "Geguri" Se-yeon, recently joined the South Korean team ROX Orcas, months after she was forced to prove that her high skill rating was not a result of cheating, despite accusations leveled at her from her male peers on another team.
Oct. 7, 2017, 8:34 a.m. Eastern: This story has been updated.