'Newsweek' retracts article about girlfriend of Las Vegas shooter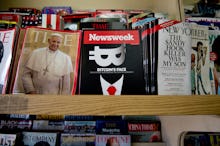 Newsweek has retracted an article that made a number of claims about the female companion of Stephen Paddock, the man who shot and killed at least 58 people and wounded hundreds more in Las Vegas on Sunday.
Marilou Danley, 62, has been identified as Paddock's girlfriend and a person of interest in the shooting case, which has been called the worst mass shooting in modern U.S. history. A number of news outlets have written articles about her past and her relationship to Paddock. (Additionally, Clark County Coroner John Fudenberg clarified Tuesday that there were at least 58 victims — in previous statements the shooter had been counted among the 59 people who died, the Washington Post and others reported.)
Danley was in the Philippines at the time of the shooting, but she has returned to the U.S. for questioning. She has not been charged with a crime.
Newsweek's story, which was published Tuesday night and is still available via a cached version, was written by breaking news reporter Melina Delkic, and Wayback Machine's capture indicates the share headline was, "Shocker! Vegas gunman Stephen Paddock's girlfriend Marilou Danley was married to two men at once." The on-page headline on the cached page read, "Paddock's girlfriend used two social security numbers and was married to two men at the same time."
The article characterized Danley as a "shadowy figure."
"The one person who holds the key to solving the mystery of why the Vegas madman murdered 59 and wounded nearly 600 people was herself a shadowy figure with a convoluted life of her own, featuring two simultaneous husbands, a bankruptcy, two Social Security numbers, multiple addresses in several states and even different ages depending on what state records you review," the article read.
In a statement on its website that replaced the pulled article, Newsweek said the story was pulled because of an error in the story. It did not identify the error, but said that a family member of Danley brought it to their attention.
"The initial report was based on many public records, but included an error that came to light after publication when a family member came forward," the editor's note read.
It's unclear which part of the story was erroneous, or when the article was taken down. A spokesperson for Newsweek did not immediately return a request for comment about what in the story was false, or whether the site will take additional action.
The retracted article comes amid a week of false and hoax news reports related to the shooting. On Monday, trolls tried to frame Geary Danley, Marilou Danley's ex-husband, for the shooting.
Oct. 4, 2017, 3:27 p.m.: This story has been updated.