An artist in Missouri is creating dolls with vitiligo and albinism to celebrate diverse beauty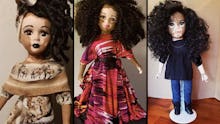 While the fashion industry is slowly opening up to models with various skin conditions — models such as Winnie Harlow, who has vitiligo, and Shaun Ross, who has albinism — an artist based out of Kansas City, Missouri, is making sure the doll industry follows suit.
The artist behind Kay Customz, Crystal Kaye, has long been creating porcelain dolls with black women in mind. For eight months, as seen on the company's Instagram account, she's created dolls with natural hair, braids, twists, Bantu knots, dreadlocks and even male dolls with thick beards.
In September, Kaye started to showcase something new: custom dolls with skin conditions like albinism and vitiligo.
The responses were electric, with hundreds of commenters streaming in, praising Kaye for representing this group of people who, very likely, have never seen a doll in their exact likeness before.
In multiple pictures Kaye has posted, you can see that she's been able to recreate her customers' vitiligo patterns exactly on the dolls.
In an email to Mic, Kaye said that when her customers get these dolls, they're "literally in tears."
In creating these dolls, Kay Customz joins companies like Malaville and Naturally Perfect Dolls, which are dedicated to showcasing dolls with natural hair and different hair textures. Like Kaye's designs, they're all diversifying what a doll can really look like.
"I feel like it's important to create dolls with different skin disorders so people can have a reflection of themselves," Kaye said. "Everyone is beautiful in their own way."