Top senators investigating Trump-Russia connections say "the issue of collusion is still open"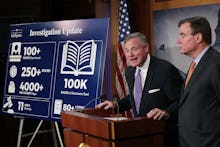 The top senators investigating possible collusion between the Trump campaign and Russia said they cannot yet rule out that the groups worked together to elect President Donald Trump.
"The issue of collusion is still open," said Sen. Richard Burr (R-N.C.) in a Wednesday press conference. But, he added, "the outcome of the election, based on the tally of votes ... [Russia] didn't alter that."
Burr and Sen. Mark Warner (D-Va.) said it is too soon for them to draw conclusions on a broad range of questions about Russia's involvement in the 2016 election. They said that, so far, they agree with the late-2016 intelligence community assessment that Russia worked to influence the election. But they would not say if they believed that Russia tried to help elect Trump.
"We've got more work to do on the collusion question, but we're developing a clearer picture of what happened," Burr said.
The senators said questions about the firing of former FBI Director James Comey by the president should be addressed to special counsel Robert Mueller, who is conducting a simultaneous investigation. Burr said the Senate Intelligence Committee's investigation into Comey's firing "has reached a logical end."
Burr added the investigation has "hit a wall" with regards to the explosive dossier that detailed alleged embarrassing actions by Trump as a private citizen while in Russia. Burr said Christopher Steele, the former British intelligence officer who wrote the dossier, has not accepted invitations to speak to the committee.
The senators touted the 100-plus interviews, totaling more than 250 hours, that the committee has conducted as part of their investigation, which has been going for the better part of a year. Burr and Warner went to pains to point out they are exhausting all possible leads to answer questions about election interference before announcing their conclusions publicly.
"We'd love to find ways to close things down but we also see strains and threads we need to continue to push through," Warner said.
The senators thanked the Department of Homeland Security for last week notifying 21 states there was at least some attempt to hack their election system. They demurred on questions that would have let them criticize the president for dismissing Russian investigations as a "hoax."
Both senators said they want to dive deeper into the role social media advertising played in Russian interference activities. Burr noted Facebook, Google and Twitter executives have been invited to speak during a public committee hearing on Nov. 1.
Earlier this week, Facebook turned more than 3,000 ads bought by a Russian ad agency to the Senate committee. Those ads, purchased during the 2016 election, were seen by 10 million Americans and aimed to stoke division along racial, social and ethnic lines.
Urging a need for increased transparency in online political advertising, Warner said he hopes those companies will show who is responsible for purchasing ads, if they were created outside the U.S. and who is driving trending stories on social platforms.
"We have had incredible access and cooperation by those social media companies," Burr said.
Burr said that he hopes to finish the investigation by the end of the year. But he added that the committee's findings must be shared before primary elections in 2018 — mandating a delivery date of early 2018.