In a video, model Londone Myers shows us what it's really like to have black hair at a fashion show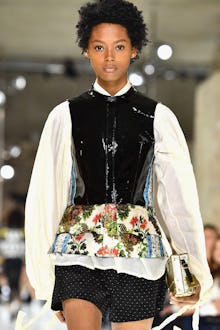 Thanks to women like Jourdan Dunn, Duckie Thot and Leomie Anderson, we're familiar with the issues facing black models when they sit down to get their hair done at fashion shows or photoshoots. Often faced with hairstylists who don't know how to deal with black hair — let alone natural hair — black models can feel highly disrespected.
Now, thanks to model Londone Myers, we know exactly what this uncomfortable situation really looks like. In a time-lapse video posted on her Instagram during Paris Fashion Week, Myers captured what it's like to be treated differently than her fellow models — just because of her hair.
In the video, Myers is left sitting alone and doing nothing as hairstylists buzz around the white models behind her.
"I don't need special treatment from anyone," Myers wrote in the video's caption. "What I need is for hairstylists to learn how to do black hair. I'm so tired of people avoiding doing my hair at shows. How dare you try to send me down the runway with a linty busted afro. We all know if you tried that on a white model you'd be canceled. If one doesn't stand, we all fall. If it isn't my fro, it'll probably be yours."
In an interview with Teen Vogue, Myers noted her fellow black models weren't well-styled, either, with the stylists simply not knowing how to groom them.
Looking through the comments section of Myers' post, it's clear other black models can relate to her video. Model Jourdana Phillips, who's modeled in the Victoria's Secret Fashion Show and often rocks her natural hair, wrote, "Now that we have more models of color we need hairstylists, makeup artists, photographers, etc. [who] know how to support black beauty." Model Nejilka Arias also chimed in, writing, "Fashion wanted diversity right! Get some diverse hairstylists, too!"
This video comes at a very revealing time for the fashion industry. During London Fashion Week just a few weeks ago, Leomie Anderson went on BBC Radio 4 to talk about this very issue, saying she and her peers constantly have to battle hairstylists backstage.
"With the hair, it's the fact that yes, they have more natural hair on the runways, but they still don't know how to treat our hair," Anderson said. "My friend Maria Borges, she has a lovely, beautiful afro, and she said that when she came backstage to a show, they would literally say, 'Oh her hair is done,' and she's like, 'No, you need to brush it, you need to shape it.' ... But to them, it's, "Oh, already done.'"
On Myers' post, Anderson herself commented: "They don't even want to touch natural-haired girls! Good for you for standing up."
Myers is continuing to speak out, writing a follow-up post in which she thanked her supporters and encouraged other models in the industry to speak up for the sake of the next generation of models.
"I encourage my powerful working women [to] not only be brave and speak out against the mistreatment they face within the industry — but to also help out and support the newer generation," Myers wrote. "There is more than enough room for more than one POC supermodel/ it girl at a time. We really need to take notes from the other POC who paved the way for us."
Mic has reached out to Myers for further comment and will update this post when we hear back.