Growing number of GOP lawmakers appear open to a ban on rifle attachments that make guns more deadly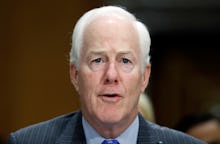 A handful of Republican lawmakers have expressed a willingness to examine whether bump stocks — or attachments to semiautomatic weapons that allow the guns to fire more rapidly — should be banned in the U.S.
Their comments come after the deadly shooting in Las Vegas, in which a gunman used bump stocks to shoot at a crowd gathered for a country music festival, killing at least 58 and wounding more than 500 others. (Clark County Coroner John Fudenberg clarified Tuesday that in previous statements the shooter had been counted among the 59 people who died, the Washington Post and others reported.)
Sen. John Cornyn (R-Texas) told a Bloomberg News reporter that Congress should hold hearings on whether bump stocks should be banned.
Rep. Bill Flores (R-Texas), a gun owner and former chair of the conservative Republican Study Committee, went as far as to call for a ban on bump stocks altogether.
And former House Speaker Newt Gingrich, an ally of President Donald Trump, said bump stocks should also be re-examined and possibly banned.
"If there's something that makes it easier to convert a semiautomatic into an automatic, then maybe that does have to be looked at," Gingrich said Wednesday on Fox.
Sen. Dianne Feinstein (D-Calif.) introduced a bill on Wednesday that would ban bump stocks and other technologies that turn semiautomatic weapons into automatic ones.
Her bill has 26 co-sponsors, 25 of whom are Democrats. Vermont Senator Bernie Sanders, an Independent who ran for president as a Democrat, also co-sponsored the bill.
Oct. 4, 2017, 3:15 p.m.: This story has been updated.