What Melania Trump wore her 37th week as first lady — from Puerto Rico to Las Vegas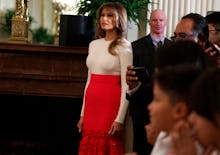 With multiple national crises gripping our country, Melania Trump had an extremely active week as first lady. She met with Thailand Prime Minister Prayut Chan-o-cha, traveled to Puerto Rico to survey hurricane damage and then went to Las Vegas to visit survivors of the shooting there as well as the first responders.
Trump didn't have any truly exciting or memorable fashion this week, although she did pull out another pair of her famous hurricane heels.
This is what she wore:
Monday, Oct. 2: A tweed Alexander McQueen dress for a meeting with Thailand's prime minister
On Monday, for meeting with Thailand's current prime minister and his wife, as well as participating in a moment of silence for victims of the shooting in Las Vegas on the front lawn of the White House, Trump chose a sleeveless tweed dress from one of her longtime favorites: Alexander McQueen.
With interlocking threads of black and red and white and yellow, Trump paired the dress with a pair of marigold heels.
Tuesday, Oct. 3: Hurricane heels (again) when departing for Puerto Rico
She has done this many times at this point, and still it confuses us.
For Trump's quick appearance on the White House lawn, before boarding Marine One and then Air Force One to fly to Puerto Rico and survey hurricane damage done by Hurricane Maria, Trump appeared in an outfit fit for the runway.
Wearing a turtleneck from Victoria Beckham and heels Manolo Blahnik, the same designer responsible for her first controversial pair of "hurricane heels," she again looked wholly unfit to survey hurricane damage. But as is Trump's ritual, she changed on the plane.
Tuesday, Oct. 3: After a quick change, a more utilitarian outfit for Puerto Rico
Maybe Trump just loves changing on Air Force One. We simply don't know. All we do know is that before touching down in Puerto Rico, Trump changed into a more suitable outfit for surveying damage and relief efforts amidst extensive hurricane damage. This time, the look involved an army green jacket, a baseball cap, a pair of Timberland boots and, rather curiously, a pristine pair of white pants and a white T-shirt.
It sent a signal that although Trump was present, she nor her outfit would be getting dirty.
Wednesday, Oct. 4: A solemn black ensemble for Las Vegas
Before taking off for Las Vegas, where she and her husband would meet with survivors of the Vegas shooting, Trump appeared in a long black coat, by a designer we've yet to identify ourselves.
Then upon touching down in Vegas, Trump revealed another all-black outfit, consisting of a short-sleeve sweater, a black brocade skirt (which looks similar to this Vivienne Westwood and this Chanel, but we can't be sure) and a black belt at the waist.
Thursday, Oct. 5: A modern black suit for meeting with military leaders and their spouses at the White House
To a meeting with military spouses that would end with Donald Trump ominously announcing that perhaps it was the "calm before the storm," raising everyone's blood pressure around the world, Melania Trump opted for a simple suit.
The black suit was sculpted and tailored, with Trump wearing a white button-down underneath. It was a quiet and professional look, as her husband alluded to war.
Living in America is so fun right now.
Friday, Oct. 6: A bright, frilly skirt for a Hispanic heritage event at the WH
To round out this week, Trump appeared on Friday at a Hispanic Heritage Month event at the White House in her boldest look of the week: a light cream sweater worn with a bright reddish-pink skirt that had flowery detailing and a ruffle at the bottom, which kind of looked like a nod to flamenco skirts.
The designer for this skirt, ID'd by @WhiteHouse_Fash, is Carolina Herrera, who was born in Venezuela.
You can see previous recaps of what Melania Trump wore here.