What does the Las Vegas shooting mean for concert security? We asked experts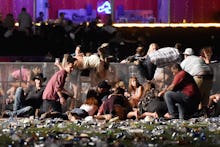 The tragedy that occurred during the Route 91 Harvest festival in Las Vegas has the distinction of being the deadliest mass shooting in modern U.S. history — with at least 58 people killed and more than 500 wounded. But in the past few years, it's become a familiar sort of scene.
Like the Manchester Arena bombing in May, the Pulse nightclub massacre in 2016 and the Bataclan attack in Paris in 2015, the Vegas shooting is a horrific reminder that violence can occur where it's least expected. Entertainment venues are "soft targets" — places where gunmen and attackers have the opportunity to maximize casualties because their victims are relatively unsuspecting.
What sets Sunday's shooting apart from those other incidents is that it took place during an outdoor event, committed by someone from afar who didn't need to pass through security nor get close. Firing into the festival audience from the 32nd floor of the Mandalay Bay hotel where he had checked in, Stephen Paddock didn't have to evade metal detectors, storm the doors or try not to look suspicious as he entered a concert venue. He just needed a clear vantage point and a rifle capable of spraying bullets into a large crowd across an intersection — not an easily foreseeable situation, according to experts.
"It's always kind of easy to [play] Monday morning quarterback," Mike "D.C." Lescault, a risk manager who has worked for Live Nation and who's been in the security industry for 20 years, said in a phone interview. "As a risk manager, our job is to worry. ... We're always worrying about this and that. Of all the things that I've worried about in my career, something like that, an elevated position out of a hotel room window, my first thought was just ... 'That's not something I would have ever anticipated happening in any of my experience in the industry.'"
"With the things that have happened in Paris and in the U.K., regarding concerts, it's really been on our minds," Lescault said. "This is one of our big fears. But the nature of this [specific incident] is definitely especially troubling."
In the immediate aftermath of the Vegas shooting, it's understandable if concertgoers are wary about attending open-air festivals. Organizers behind the Austin City Limits festival, which is set to begin Oct. 6, are reportedly offering refunds to anyone who no longer wants to go to the multi-day showcase. Speaking to the Austin American-Statesman, Austin's interim police chief, Brian Manley, offered assurance that the event will be well protected, saying, "We will have plenty of officers that will be visible, but we will also have plenty that will not be visible, strategically placed, that will only come out if necessary to address any specific incidents."
Concertgoers across the country can count on the same sorts of security measures moving forward — pat downs, metal detectors — but no one should expect some major shift in how these types of events are put together. "There'll probably be some higher awareness and more incremental improvements as we look at it," Lescault said, "but I don't see any drastic changes [coming]."
When it comes to concert security — as Mic found speaking to security experts in the days following the Manchester Arena bombing — there's no way to absolutely guarantee everyone's safety. It's simply not practical.
"As far as preventing [this kind of incident], I wish I could tell you that there's a magic panacea out there to do it, but there isn't," Frank Williar, vice president of operations and training at Echelon Protection & Surveillance, said in a phone interview. "Short of closing down everything and every line of sight that are provided to an event, you can gear up and have as many security people around as you possibly can. That just means that there'll be more of them getting shot than you anticipated."
Eric Stern, a professor at the University at Albany, in the Emergency Preparedness, Homeland Security and Cybersecurity Department, said in an email interview that it might be less complicated for venues to provide extra protection for people on the stage, not in the audience. "It may be somewhat easier to devise measures to provide additional protection to performers (e.g. putting them behind walls or shields of bulletproof glass) than to find ways of protecting outdoor concertgoers, who are likely to remain significantly exposed in many venues," Stern wrote.
The fact is that music fans take on a certain amount of risk when they attend major shows and festivals — it comes with the territory of gathering in a large, public crowd. But just because people should be mindful of their surroundings, doesn't mean they should expect to be put in danger.
"I think it is important to keep a perspective," Lescault said. "[There are] thousands of festivals that are happening every year, throughout the country, that really go off without a problem. We never really hear about them because it's just so smooth and there are no issues."
Additional reporting by Kyle McGovern.
Oct. 5, 2017, 10:15 a.m.: This story has been updated.