Immigrant rights activists scramble to help DACA recipients stay protected ahead of looming deadline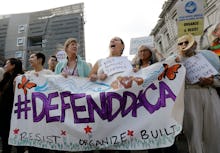 STATEN ISLAND, N.Y. — At the La Colmena community center in Staten Island, New York, immigrant rights activists are working overtime to help protect some of the nearly 160,000 young undocumented people whose protected status is at risk because of the Trump administration.
"There's a lot of uncertainty anxiety and fear," said Cesar Vargas, New York's first undocumented attorney, who is a DACA recipient and co-founder of the undocumented rights group Dream Action Coalition. 
Vargas spent Wednesday holding a free legal clinic for young immigrants facing a looming deadline that could mean the difference between protection and possible deportation. 
Approximately 1 in 5 young undocumented immigrants covered under the Deferred Action for Childhood Arrivals, or DACA, program have spent the last month scrambling to renew their status before the Oct. 5 deadline set by the Trump administration.
In September, President Donald Trump announced he would end the DACA program in six months if Congress did not come up with a legislative solution during that time. In addition to sunsetting DACA after six months, Trump's decision prevented any new entrants from joining the program.
Under DACA, recipients of the program must renew their status every two years, which means they must resubmit much of their paperwork and pay a fee. Because a recipient's status expires two years after entering the program — or since their last renewal — a significant portion of immigrants covered by DACA were set to have their statuses expire sometime during the six-month period set by Trump.
"There are around 60,00 people who have resubmitted," Vargas said. "That means there are around 100,000 people who will lose their DACAs." 
Earlier this year, activists attempted to get the deadline pushed back in federal court. But despite admonitions from a federal judge, the Department of Homeland Security was not compelled to change the deadline and refused to do so.
Since then, most of the energy in the immigrant rights community has been directed toward helping DACA recipients renew their statuses. The Dream Act Coalition is among the groups offering free legal services and help with DACA renewal applications. Wednesday's clinic was the Dream Act Coalition's final legal clinic before Thursday's deadline. 
Some DACA recipients have chosen not to renew out of fear the government might try to use the information in their applications to target them or their families once the program expires.
"They don't want to share their most up-to-date information with immigration, they don't want to put their parents at risk, they don't want to put their loved ones at risk," Vargas said, expressing both disappointment and sympathy with those who fear renewal. "It's unfortunate… but it's understandable as well, with Trump's volatile personality and politics."
Other DACA recipients have been unable to reapply because of the prohibitive cost — nearly $500 per application for every renewal. Many others have faced technical issues with their applications or had previously allowed their DACA to expire before Trump's announcement. 
"I got confused with the dates and I thought my DACA would expire at the end of the year so I would still have the chance to renew it in September," said Edith, a former DACA recipient who declined to give her last name. Edith's DACA expired in July, and when she went to get it renewed after Trump's announcement in early September, she was told it was "not possible."
"I was upset — and scared," Edith said, recalling the moment she learned that Trump's decision would prevent her from renewing. "I thought, many people depend on [DACA] to work, to study, to have a better life —their parents depend on them and now [Trump] will take this from them too."
Democratic leaders are attempting to craft a legislative compromise with Trump to provide permanent protection for DACA recipients. But many immigrants' rights activists, including members of the Dream Act Coalition, fear that Democrats will negotiate DACA protections in exchange for increases in the number of border patrol agents and other security policies that could end up hurting the immigrant community in the long run.
And a recent report suggests that Trump has promised Republicans that any eventual legislation will only protect current DACA holders, leaving people like Edith out in the cold. But activists are determined to make sure that doesn't happen.
"My job is to work with Edith and work with the immigrant community to elevate their voices," Vargas said. "To make sure they are telling their own stories and to have an opportunity for them to be at the table during this debate to ensure that she and many thousand more can be protected and actually have an opportunity for the American dream that many of them aspire to."