Panthers quarterback Cam Newton suggests a female reporter couldn't possibly understand football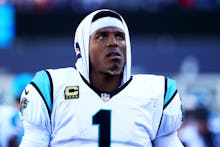 Cam Newton — one of the NFL's biggest stars — apparently finds the idea that female reporters would know anything about sports to be laughable.
Jourdan Rodrigue, who covers the Carolina Panthers for the Charlotte Observer, had asked the quarterback in a press conference Wednesday about one of his receivers "[embracing] the physicality of his routes."
"It's funny to hear a female talk about routes," Newton replied, smirking. "It's funny."
Rodrigue, who has covered the Panthers since October 2016, apparently confronted Newton following the press conference and asked him to apologize. He did not, the reporter said in a statement afterward.
It was just the latest high profile incident of sexism in the media, particularly in the world of sports.
Jessica Mendoza — a former gold medal-winning softball player — faced similar misogynistic backlash when she became the first female analyst to call a postseason Major League Baseball game in 2015.
"No lady needs to be on ESPN talking during a baseball game specially Mendoza sorry," Houston Astros' minor leaguer Brooks Marlow tweeted of Mendoza the following year, receiving widespread backlash.
After Wednesday's press conference, Rodrigue said she asked Newton if he really thought women weren't capable of understanding receivers' routes. Newton reportedly replied that "she wasn't really seeing specific routes when watching the game, she was just seeing if somebody was open," Scott Fowler reported in the Observer.
Newton faced a wave of criticism for his remarks Wednesday, particularly from other sports reporters.
Newton was also dropped by the yogurt company Dannon, for whom the quarterback has appeared in advertisements.
"We are shocked and disheartened at the behavior and comments of Cam Newton towards Jourdan Rodrigue, which we perceive as sexist and disparaging to all women," Michael Neuwirth, Dannon's senior director of external communications, said in a statement Thursday afternoon. "We have shared our concerns with Cam and will no longer work with him."
As of Thursday afternoon, neither the Panthers nor Newton appears to have responded to the backlash.
"I don't think it's 'funny' to be a female and talk about routes," Rodrigue said on Twitter. "I think it's my job."
October 5, 2017, 1:58 p.m. Eastern: This story has been updated.