Across the country, progressives are winning. Is that a sign for 2018?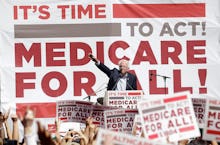 Welcome to Mic's daily read on Donald Trump's America. Want to receive this as a daily email in your inbox? Subscribe here.
Every day, we bring you a different dispatch on Trump's America. Today's focus: Winning.
Thursday's dispatch: Progressives on the move nationwide
Chances are you haven't heard of Randall Woodfin. Or Vincent Fort. Or Jovanka Beckles. But many progressives see these names as the vanguard of a rising tide that will sweep Republicans from power in local, state and national elections in 2018.
Woodfin handily defeated the incumbent Democratic mayor of Birmingham, Alabama, on Tuesday in a runoff election. The largest cities in Alabama and Mississippi now have progressive mayors. If Fort becomes mayor of Atlanta later this year, progressives will lead the largest cities in three Southern states that voted decisively for President Donald Trump.
Earlier this week in Albuquerque, New Mexico, Tim Keller, the progressive-backed candidate came in first in the mayoral race. A Republican has led New Mexico's largest city since 2009. And in September, the five-term Republican incumbent mayor in Manchester, New Hampshire, finished second in the primary to a Democrat.
These local level wins follow recent pick-ups by Democrats in state House races, where Democrats have beaten Republican in places as conservative as Oklahoma. And they are beginning to show "the fruits of our labor," said Nina Turner, president of Our Revolution, the progressive grassroots group with hundreds of chapters nationwide that was born out of Sen. Bernie Sanders' presidential campaign.
"What we're doing with Our Revolution is trying to transform the Democratic Party," Turner said. "One city, one township at a time. That is exactly what we're doing."
Our Revolution has made state and local endorsements through next year, with most of them focused on elections through next month. More will be added as local groups continue to pick their preferred candidates, Turner said.
She noted that Woodfin's race is a case study for how to build a progressive movement in an unlikely place. As his race gained attention, Our Revolution's national arm moved in to support his race. Sanders flew to Alabama to campaign for Woodfin. That led to the creation of Our Revolution Birmingham, the group's first chapter in Alabama. Supporters made 1,100 phone calls and sent 12,000 text messages to support Woodfin, Turner said.
"We want to sustain that kind of grassroots engagement for other candidates," she said. "The progressive movement is not built on one person or one personality."
Our Revolution was not the only progressive group working in the Birmingham race. Working Families Party volunteers contacted more than 22,000 voters with phone calls and text messages during the campaign. WFP has endorsed nearly 1,000 local candidates nationwide as part of its Progressive Heroes program focused on municipal races.
Indivisible will launch a guide that its more than 6,000 local chapters can use to endorse local-level candidates. The Democratic Socialists of America are backing local candidates, like Jon Grant in a Seattle City Council race.
Flippable, focused on helping Democrats win state legislative elections, sees promise in Virginia races that will happen next month. The group cites Democratic energy in recent local elections that they hope will propel liberals to victory in the gubernatorial and other state elections.
"What's really exciting about Virginia is the Democrats' ability to win these races despite being outspent by the GOP," said Catherine Vaughan, cofounder and CEO of Flippable. "We're hopeful that this is a sign of what's to come in November."
Today's question: It can be difficult to tie the results of a mayoral race to a larger trend. Do you think Democrats are set for victories this fall and next fall? Or could Republicans still keep control of Congress and key states?
Please email your thoughts to trumpsamerica@mic.com. And sign up at mic.com/trumps-america to see feedback from other readers.
Thursday in Trump's America:
First in NTA: New research from Democrat-aligned American Bridge shows at Trump's Economy 200,000 jobs have been lost since Trump took office. Its research finds many of these losses are from manufacturers and some of the nation's largest companies. And nearly 18,000 jobs have been lost to foreign trade. Overall, the unemployment rate has still declined under Trump — but fewer jobs have been created during Trump's first seven months than during Barack Obama's last seven months.
It looks like Republicans are open to banning "bump stocks." Top GOP leaders in the Senate and House signaled they're willing to consider outlawing the mechanism that allowed the Las Vegas shooter to turn semi-automatic rifles into guns that fired continuously. Those stocks were initially designed for people with disabilities, but that's not how they're being used.
Top Republican donors told Politico they are going to stop giving money to the party until the GOP proves it can deliver on its core promises, like repeal and replace the Affordable Care Act.
The House is expected to pass a Republican budget that proposes deep cuts to programs like Medicare over the next decade, but the cuts aren't actually planned to go into effect — an arcane Washington move necessary to pass tax reform.
Recordings obtained by the Wall Street Journal show how police frantically searched for the Las Vegas gunman. Mic looks at how lone wolf, white, male terrorists have increasingly been on the FBI's radar.
The top senators investigating alleged Trump-Russia ties told reporters Wednesday "the issue of collusion is still open." They also said they've "hit a wall" in their investigation of the explosive dossier compiled by a former British intelligence officer about Trump. Trump tweeted Thursday morning that the committee should investigate "fake news."
Immigration advocates are racing to help 100,000 DACA recipients preserve their status in the program by Thursday's deadline.
The House passed a ban on abortion after 20 weeks. The justification for the legislation is based on pseudoscience.
Secretary of State Rex Tillerson said he has not considered resigning — but would not say whether he actually called Trump a "moron," as had been reported.
San Juan Mayor Carmen Yulín Cruz blasted Trump's trip to Puerto Rico as a "terrible and abominable" public relations stunt.
The Supreme Court may strike down partisan gerrymandering. In Wednesday's oral arguments, a majority of justices seemed to lean toward ending the practice that leads to politicians having a greater representative majority than the votes cast.
Today's MicBite:
Steve Israel, who was in Congress for 16 years, explains why no substantial action will be taken to reform America's gun laws in the wake of the Las Vegas mass shooting. Tap or click the video below to learn more.