With Ava Dash and Nala Wayans, the next generation of celebrity-kid models is on the rise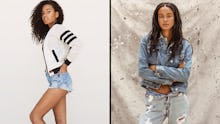 In the fashion industry, it's a tale as old as time: Two beautiful celebrities come together, make a beautiful baby and right around that beautiful baby's 16th birthday, they're a beautiful, profitable model. Gigi and Bella Hadid fall right into this story, as does Kendall Jenner.
With every passing year, a new generation of these so-called "celebrity-kid models" is born. Kaia Gerber, whose mother is Cindi Crawford, just walked in a ton of shows this fashion month. And Ireland Baldwin, whose parents are Alec Baldwin and Kim Basinger, just landed a Guess campaign.
Now there are two more celebrity-kid models we think you should keep an eye on: Ava Dash and Nala Wayans, who are both signed to DT Model Management, which has signed Baldwin as well.
Ava Dash's parents are Damon Dash, the legendary music producer, and Rachel Roy, the fashion designer. Nala Wayans' parents are actor and comedian Keenan Ivory Wayans and Daphne Wayans, a TV personality and producer.
For Dash, 17, particularly, modeling came easily.
"My mom is a fashion designer, so I've always been exposed to it," Dash said in a recent phone interview. "When I was 4 years old, I walked in my first show in my mom and dad's line, Rocawear. I would walk in their show, and do their photoshoots. Four to 7, I was doing that. I always liked looking over my mom's shoulders and helping her chose patterns. And I just thought that modeling was a great way to express that creativity."
After years of child modeling, it actually took a while for Dash to consider modeling as a genuine career for herself. But while working at a Brandy Melville store in Los Angeles when she was 15, she was constantly bombarded with customers — and even the store's owners — asking her to model. So that's when things changed, and Dash, who's now a senior in high school, started looking at it as a possible career. Funnily enough, though, her mom wasn't totally on board at first.
"My mom didn't really love it, just because she's a fashion designer and she knows models don't get to make their own choices for what they wear," Dash said. "But at the same time, they were happy that I had found something that I like to do and make money and really enjoy."
Thus far in her career, Dash has done editorials for Galore magazine, modeled for Brandy Melville and appeared in the Alice and Olivia presentation at New York Fashion Week.
Now, for Wayans, who's 21 years old, fashion has felt like a longtime passion.
"My parents can tell you, I've always had like a clear idea of what the clothes I want to wear are," Wayans said in a recent phone interview. "I've always been clear on my style and what I like. I think clothes are beautiful, and fashion is definitely an art. And then modeling, everyone always told me when I was younger, 'Oh, she should totally model.' And I was like, 'Oh, whatever.' Then as I got older, I realized it was a real possibility."
In her modeling career thus far, which began just one year ago, the highlight has absolutely been at this New York Fashion Week, when she made her runway debut at the Sherri Hill show.
For each of these women, having famous parents has been a double-edged sword, though both admit that there are more pros than cons.
"I think it's been helpful because since people have already heard of my mom or dad, then when I decide to start modeling, news outlets want to pick it up, and then more people hear of me and want me to be in their shoots," Dash said. "But it's been a con because there's certain connotations with both of my parents' names ... and I can be judged based on what people think of my parents."
"It definitely can help open doors," Wayans said. "For me, I think the con might be people trying to get me to try to act, like my dad. I have zero interest in acting whatsoever, it's just kind of annoying."
For DT Model Management, both of these women felt like a fit for its own unique agency strategy: highlighting models who are on the rise, with plenty of promise.
"Our goal was creating an agency that was totally different from the 'cookie cutter' modeling agencies," David Todd, the founder of DT Model Management, said in an email. "We offer our models one-on-one personal attention and treat each model as their own brand. The key to DTMM's success is a selective, discerning eye for talent; the company's philosophy is quality, not quantity."
So these are two women who both have celebrity parents, have similar online followings on Instagram and are even signed to the same agency. But make no mistake: Dash and Wayans' career aspirations couldn't be more different.
For Dash, her modeling dreams align with her own passion for giving back and philanthropy, which is something her mom has been known for in the industry as well.
"What I love is modeling, but I've always tried to incorporate giving back somehow," Dash said. "Since I love charity and the aspect of giving back, brands like Toms or Feed I would be really happy to work with."
For Wayans, she wants to be on the biggest runways, working with the biggest brands, which she's loved for what's felt like eons.
"I love Chanel," Wayans said. "That's obviously my dream. I can't even picture that happening, because it's such a scary dream of mine. If I got Chanel I could die happily. I really like what Dolce is doing right now too. ... I really want to make a name for myself, where people look back and think like, 'Oh, she was legendary. She was amazing.'"