Interior Secretary Ryan Zinke's travel docs raise questions about wife's role in department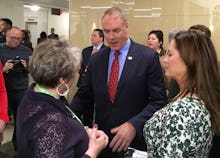 Irregularities in Interior Secretary Ryan Zinke's travel schedule are raising questions about the presence of his wife on official trips, as well as her overall role in the department.
Heavily redacted manifests for Zinke's recent trips to Montana, California, Norway and Alaska do not always list his wife, Lola Zinke. But social media posts and coverage of the trips indicate that she was present at some events and meetings in those locations, calling into question whether or not she was traveling with her husband using taxpayer funds.
Also, two sources close to the Interior Department described an internal effort to hide the presence of Lola Zinke on the official trips where she accompanied her husband. According to the sources, who spoke on the condition of anonymity out of fear of reprisal, the department's staff photographer was instructed to crop Lola Zinke out of photos from any official events and meetings she attended on those trips, including a closed meeting with California Gov. Jerry Brown.
On Monday, department spokeswoman Heather Swift told Mic that Lola Zinke "was on no flights with the secretary" during his March trip to California. But on Wednesday, Swift said the department would "look into" the discrepancies in the secretary's travel schedule. She has not yet responded.
The department's official travel schedule detailing Ryan Zinke's April trip to California does not indicate that Lola Zinke would be present at the meeting with Brown, nor is she visibly listed as a travel companion on the flight to the state. However, a less redacted version of the log quietly made available on the department's web site — and pointed out to Mic by a source critical of Zinke — shows Lola Zinke was in the car with the secretary as he left the Sacramento airport after his flight from Washington landed.
On the California trip, there was no photo record on the department's official Flickr account of Lola sitting in on the secretary's meeting with Brown, though a photo the Sacramento Bee published following the meeting shows her with the group. The Bee credited the Interior Department for the photo.
Additionally, a photo on what is likely Lola Zinke's personal Twitter account places her in Brown's office on the day of the meeting.
Lola Zinke, who is the campaign chair for conservative Montana businessman Troy Downing's U.S. Senate bid, holds no official position in the Interior Department and is not part of the Trump administration in any capacity.
Richard Painter, former chief White House ethics lawyer in the George W. Bush administration, said that while Lola Zinke should not be sitting in on departmental meetings, the bigger question is who paid for her travel.
"If the government is paying for her to go, that's highly inappropriate," he said. "Spouses should not be paid for by the government to go places."
Aaron Weiss, media director for the Center for Western Priorities — a policy and ethics watchdog organization founded during the Obama administration — said alleged efforts to remove Lola Zinke from official department photos "stink to high heaven."
"Those kinds of instructions aren't what you'd expect to see if everything involving Lola Zinke's travel was above board," he said. "If there's nothing to hide, and there's nothing to be ashamed of, then why hide or minimize her presence on trips?"
On Thursday, lawyers for American Oversight sued the department on behalf of Western Values Project, an environmental watchdog. The suit claims the department failed to respond in a timely fashion to WVP's Freedom of Information Act request for documents related to Lola Zinke's role in the department.
The lawsuit asks the United States District Court for the District of Columbia to "order [the Interior Department] to conduct a search reasonably calculated to uncover all records" related to WVP's FOIA request and produce them for the public.
That lawsuit and the overall questions surrounding the department come amid controversy over the travel expenses of President Donald Trump's Cabinet. Health and Human Services Secretary Tom Price resigned on Sept. 29 after questions were raised about his use of private charter aircraft charged to taxpayers. Zinke, too, has faced criticism over three of his flights — all private charters — including one late-night flight from Las Vegas to Montana that cost more than $12,000.
On Wednesday, Zinke told reporters that criticism over his travel was "complete and utter bullshit" and that "all the trips went through absolute due diligence."
Additional draft manifests for trips Ryan Zinke took with Lola to Norway and Alaska in May do not show how she traveled by air to and from those destinations. While the documents list her attendance at an event in Denali National Park, she did not appear in the department's Flickr album cataloguing the secretary's appearance there.
Though the department confirmed to Politico that Lola Zinke was on those flights with the secretary, manifests for the flights do not list her presence on either the military aircraft from Washington to Norway, or from Norway to Deadhorse, Alaska. However, once in Deadhorse, it mentions "spouses continue on" to Fairbanks, Alaska, but does not list Lola Zinke by name.
According to Politico, Lola Zinke accompanied the secretary on those flights. The less redacted manifest says she was in the vehicle that transported the secretary between the department headquarters in Washington and Andrews Air Force Base.
Lola Zinke also does not appear on the plane manifest for a March trip her husband took to Montana. However, her name does appear among the invitees of an event she attended with her husband at Glacier National Park on March 10. She was also listed in the manifest for her husband's vehicle as they traveled later that day to his hometown of Whitefish, Montana.
Chris Saeger, executive director of the Western Values Project, maintained that knowing more about Lola Zinke's presence and role at the department was of the utmost importance to the public.
"We saw a lot of evidence on social media that the role Mrs. Zinke was playing was substantive — and if you want to play that kind of a role in the federal government, there are rules," he said. "As long as we don't know what her role is, we don't know if she's playing by those rules."