'People' profiled a Las Vegas shooting victim — but his identity can't be confirmed anywhere else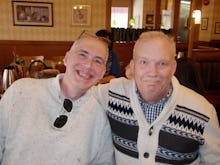 On Wednesday, People magazine ran a heart-wrenching exclusive about a terminally ill man who was among those killed by a mass shooter at a Las Vegas country music festival Sunday night.
But a representative at the Clark County Coroner's office could not confirm to Mic Thursday that the person named in People's story, Larry Parra, had been killed Sunday. In fact, there are no Larrys or Lawrences or Parras on any list compiled by multiple media outlets.
(The article was deleted from People's website Thursday night after this article was published. The URL of People's now-deleted article redirects to People's homepage. A cached version of the piece is still available.)
Parra, the man featured in People's story, was "terminally ill and on dialysis." According to People, Parra was attending the music festival with his best friend, Jason Rogers, as part of Parra's 40th birthday celebration.
The shooting, according to People, started after Parra left Rogers to find some food and a beer. Things quickly turned tragic.
"When Rogers eventually did see Parra again, about 30 minutes later, he was lying on the ground with a bullet wound to his head," People reporter Caitlin Keating wrote in the piece. "People unintentionally trampled over Parra's body, Rogers said, as he witnessed it all in shock."
The report of Parra's death was posted on People's Facebook page and Twitter, and was shared hundreds of times.
The report was also picked up by other reporting outlets, including the nonprofit newsroom the Trace, which tracks gun violence in the U.S.
But according to other lists of the victims' names, which several news outlets have compiled, there wasn't anyone killed Sunday who goes by the name Larry Parra (or other versions of that name, like Lawrence Parra).
A total of 59 people, including the shooter, were killed on Sunday. On Thursday, the Clark County Coroner's office said that the families of 58 people killed Sunday — not including the shooter — had been identified.
Lists from CBS News and the Washington Post named all of the victims in the attack. Time named 54 people. ABC News listed 50. The Boston Globe named 51. The New York Times listed 47. The Las Vegas Review-Journal identified 55.
None of these lists included a person named Larry Parra or anyone by the name of Larry or Lawrence.
Mic reached out to Keating, the People reporter who authored the story, about how she confirmed Parra's death. She told Mic that her confirmation came only from Rogers, who was identified as Parra's best friend in the piece.
A review of Rogers' Facebook page told a different story about the man identified by People as Larry Parra.
On Tuesday, Rogers posted that he and his husband "had a best friend for 25 years who was killed in Las Vegas." (He did not mention that he had been in Las Vegas during the shooting.) In response to a question by a Facebook friend about who that friend was, Rogers identifies that person as "Larry."
But the man identified as Larry Parra in the photos provided to People instead look a lot like the man that Rogers is listed as being married to, Steven Anderson.
Below is a side-by-side of the images, one from Rogers' Facebook page and the other provided to People.
Mic reached out to both Rogers and Anderson on Facebook to request more information and clarification about the man identified as Parra in the photo on People, but did not receive a response.
When reached by phone Thursday, Rogers said he was unable to talk, saying he was at work. He said to call back in a half-hour. When a Mic reporter called back, he did not answer. He later blocked that Mic reporter's phone number.
"People is investigating this story," a spokesperson for the magazine said in a statement. "In the meantime, we have removed it from our site."
People's story comes in the wake of hoax news stories and fake news in the aftermath of the Las Vegas shooting.
On Wednesday, Newsweek retracted an article about the girlfriend of the shooter, saying in an editor's note that the magazine mistakenly thought that public records of two different people identified the same person.
Anna Swartz contributed to this report.
Oct. 5, 2017 10:11 p.m.: This article has been updated.