NRA says federal government should look into whether bump stocks should be regulated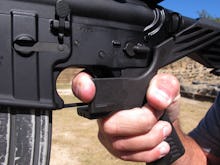 The National Rifle Association on Thursday said the federal government should look into whether attachments that make semiautomatic weapons more deadly should be subject to regulation.
The NRA's announcement comes after a number of GOP lawmakers have expressed a willingness to ban bump stocks, or devices that allow semiautomatic weapons to fire like an automatic rifle.
Stephen Paddock, the 64-year-old gunman who killed at least 58 people and wounded hundreds of others, used bump stocks in his attack.
Republicans such as House Speaker Paul Ryan and Senate Majority Whip John Cornyn have said they are open to reviewing bump stocks, and whether they should be banned.
"This strikes me as something worth considering," Cornyn told reporters Thursday of banning bump stocks. "Particularly when you look at the video of this individual spraying gunfire at a high rate on these 22,000 from this 32nd floor hotel room. I think it's worth our serious consideration."
White House press secretary Sarah Huckabee Sanders added that President Donald Trump is also "very open" to regulating bump stocks.
Sen. Dianne Feinstein (D-Calif.) already introduced legislation on Wednesday that would ban bump stocks and other devices that allow semiautomatic weapons to operate like automatic ones.