Moldova is one of Europe's least-visited countries. But that's all about to change.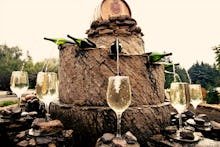 Beloved destinations often have overlooked histories. Mic dives into how the past shapes what travelers see today.
Walking up to Columna 51, it was hard to tell if we had arrived at a bar or someone's home. A gray stone archway opened up to a patio draped with fairy lights and a pair of wooden folding tables sitting underneath. Inside, a crowd huddled around a bar crafted from the building's old doors. Bottles of wine lining the shelves of the weathered walls was one of the few telltale signs that this house was, in fact, the newest wine bar in Chisinau.
Six years ago, you wouldn't even be able to stumble across one wine bar in Chisinau, the capital of Moldova. Despite a winemaking history that spans back more than 4,000 years — and being home to Milestii Mici, the world's largest wine cellar — wine bars and shops were two things that Moldova was seriously lacking. I was in Moldova as a guest on Intrepid's new 13-day tour to learn about its increasing tourism.
Why would a country with such a rich wine culture be lacking in places to drink the fruits of its labor? "I think it's the case throughout most of Eastern Europe ... because the Soviet Union would build a bar, but it was like a service bar. There was no place to interact and exchange ideas because if you were exchanging ideas with your neighbors, you might start talking about the government," Neil Irwin, an American entrepreneur and the owner of Columna 51, said in a phone interview. "When I first got to Chisinau five years ago, I asked my wife, who is Moldovan, 'Where's the bar? Where can I go and meet some friends?'"
Landlocked between Romania and Ukraine, Moldova may be one of Europe's least-visited countries (and one of its poorest, with an average monthly salary of about $117), but it's home to one of the continent's richest wine cultures, influenced by everyone from the Romans to the Russians. Until the 1980s, the former Soviet state served as the USSR's most important winemaking republic, producing mass quantities to serve its 300-million-person population. "Unfortunately, the world doesn't know about that because on the bottle it was written 'Made in USSR,' not 'in Moldova,'" Dan Prisacaru, owner of Minis Terrios winery, said in a phone interview. "The former Soviet Union countries know about Moldova as a wine-producing country and as a wine region. The west, not so much."
After gaining independence in 1991, Moldova's wine industry slowly shifted from mass quantities of bulk factory wine to smaller production of higher-quality bottles. When Moldova starting inching closer to the European Union and United States, however, Russia fought back with a wine embargo in 2006 that had a crushing effect, since nearly 80% of production targeted the Russian market. The wineries that switched strategies from quantity to quality are the ones who survived.
"In the past four years, I've seen an increase in the quality," Prisacaru said. "Still, the world doesn't know about Moldova yet as a wine country. It's kind of Europe's hidden jewel in winemaking."
Moldova's wine industry is now playing catch-up to reach the standards of other European countries, and the same can be said for tourism. Tour operators like Intrepid are slowly moving into the region to showcase this time-trapped spot in its most authentic form and the people — such as Prisacaru — who are striving to make their country better.
On the new 13-day tour from Romania to Ukraine, travelers spend several days in Moldova, stopping in Chisinau and at the state-run Milestii Mici winery. A sign that travelers are showing more interest in this lesser known part of Eastern Europe: October 2016's pilot tour immediately sold out. Out of nine departures for 2017, only one space is left.
"I think one of the main draws is that many people don't know about Moldova," said Stefan Hellmuth, Intrepid Group's destination manager for Europe. "I used to be a [tour] leader myself about 10 years ago, and I've traveled through Europe quite a bit, but I had never been to Moldova. The location is so far away that it's not a logical place you transit through."
According to the United Nations World Tourism Organization, Moldova now ranks fifth in the world in terms of fastest-growing number of tourists, up 28% in 2016 with 121,000 tourists. And while the country may boast 14th-century cliffside cave monasteries and impressive stone fortresses, wine is still a major selling factor, with the "wine kingdom" of Milestii Mici being one of the most visited sites.
For Moldovans, however, wine is more than a tourist attraction; it's a way to share their culture. Visit any family in any village, and one of the first things you'll be offered is a glass of homemade wine that's been stored down in the "beci," or basement. As Moldova sheds its Soviet shell, a new crop of winemakers is bringing this age-old tradition from the villages to the capital, showcasing their country's signature hospitality in Chisinau's newly opened wine bars.
"We started during the Russian embargo because we wanted to make quality wine," said Igor Luchianov, co-founder of family-run winery Et Cetera. "We still need 10, 15, maybe 20 years for our wine to be on the same level as France or Germany. But now that the culture of wine drinking in the country is growing, we can prove to the world that Moldova has potential."