Congressman who reportedly pressured mistress to have an abortion resigns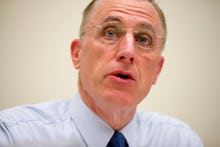 Rep. Tim Murphy, an anti-abortion Republican beset by scandal after news surfaced that he allegedly pressured a mistress to have an abortion, will resign his seat in Congress.
Murphy tendered his resignation to House Speaker Paul Ryan on Thursday, and will leave his seat effective Oct. 21.
"It was Dr. Murphy's decision to move on to the next chapter of his life, and I support it," Ryan said in a statement. "We thank him for his many years of tireless work on mental health issues here in Congress and his service to the country as a naval reserve officer."
Initially, Murphy announced he would merely retire from Congress when his current term expires in 2018.
"After discussions with my family and staff, I have come to the decision that I will not seek reelection to Congress at the end of my current term," Murphy said in a statement Wednesday. "I plan to spend my remaining months in office continuing my work as the national leader on mental health care reform, as well as issues affecting working families in southwestern Pennsylvania."
It's unclear what made Murphy decide to resign before finishing his term.
Murphy's decision to resign comes two days after the Pittsburgh Post-Gazette reported that text messages suggested Murphy had asked a mistress to have an abortion — despite painting himself as an anti-abortion crusader in Congress.
The same day that news broke, Murphy voted in favor of a bill that would ban abortion after 20 weeks of pregnancy.
Murphy's resignation will trigger a special election in his Pennsylvania House district, located in the Pittsburgh suburbs.
His district is a strong Republican seat; President Donald Trump carried it by about a 20-point margin in 2016, according to the Daily Kos.