Mic Wakeup: DOJ cuts transgender protections, GOP takes hit in poll and a surprise from the NRA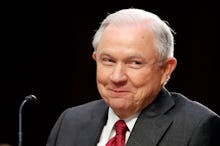 It's Friday, Oct. 6. Here are the three stories you need to read.
DOJ okays discrimination against transgender workers
Attorney General Jeff Sessions has instructed the Department of Justice to stop interpreting Title VII of the Civil Rights Act of 1964 as a protection on the basis of gender identity, Mic reported Thursday.
"Title VII's prohibition on sex discrimination encompasses discrimination between men and women but does not encompass discrimination based on gender identity per se, including transgender status," Sessions wrote in a memo dated Oct. 4 and obtained by Buzzfeed.
The move marks yet another reversal by President Donald Trump's administration away from Obama-era policies and comes weeks after Trump directed the Pentagon to reinstate a ban on transgender individuals serving in the military.
Why does this matter? As Mic noted Thursday, the transgender community faces a disproportionate amount of discrimination in the United States — even compared to other LGBTQ groups.
Poll finds Republicans losing popularity among voters
Less than a quarter of voters have a favorable view of the Republican Party.
That's the conclusion of a new Suffolk University/USA Today poll published Thursday.
According to the survey, 62% of voters view the GOP unfavorably compared to a measly 23% who have a positive view of the party, showing that Americans' feelings about Republicans have grown dramatically more negative in the last several months.
"The Republican Party is in free fall," David Paleologos, director of the Suffolk University Political Research Center, said in a news release.
So what? As Mic reported Thursday, Democrats have already begun attempting to use the GOP's growing unpopularity ahead of the 2018 midterms. Of course, Democrats shouldn't get too excited; according to the poll, almost half of Americans don't like them much, either.
NRA supports government review of bump stocks
The National Rifle Association said Thursday that the federal government should look into possibly regulating bump stocks, which Las Vegas shooter Stephen Paddock used to morph his guns into automatic weapons and kill at least 58 people and wound more than 500 others at an outdoor concert.
Wait, the NRA said that? Yeah, crazy right? The powerful lobbying outfit, which traditionally throws its heft in the way of any and all gun control legislation, potentially supporting this could be a big deal. Several prominent Republicans, including House Speaker Paul Ryan, say they're reviewing potential regulations on the devices and the White House has said it is "very open" to the possibility of doing something about them.