'People' deletes story about made-up Las Vegas shooting victim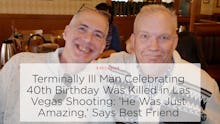 People magazine has deleted an article about a person they reported had been killed in Sunday's mass shooting in Las Vegas after Mic discovered that no such man appeared to have been a victim.
People's article, which was headlined "Terminally Ill Man Celebrating 40th Birthday Was Killed in Las Vegas Shooting: 'He Was Just Amazing,' Says Best Friend," identified a man named Larry Parra, who People reported was shot and killed in the shooting. It had been shared widely on People's social media accounts and picked up by gun violence trackers like the Trace.
But, as Mic reported Thursday, nobody by the name Larry Parra — or anyone with the first or last name of Larry, Lawrence, or Parra — was named as one of the victims on full lists of victims' names that had been compiled by media outlets. Additionally, the photo People used to identify Larry Parra matched another person on Facebook.
By Thursday night, the Clark County Coroner released a full list of the victims in the shooting. A man named Larry Parra was not among them.
By Thursday night, People removed the article from its website and deleted Facebook posts and tweets linking to the story. A link to the article redirected to People's home page.
"People is investigating this story," a magazine spokesperson told Mic in a statement late Thursday. "In the meantime, we have removed it from our site."
The writer of the People article told Mic that she confirmed Parra's death from his friend, Jason Rogers, who was quoted in the story remembering Parra's death.
When Mic tried to contact Rogers about Parra, he requested that a reporter call him back in 30 minutes. When the reporter did, he did not answer, and later blocked that reporter's number.