Of course there's a sexy Melania Trump Halloween costume. Of course.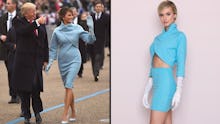 With Halloween less than a month away, we are officially in Offensive Halloween Costume Season. And what that means is that every few weeks (or days, unfortunately), we can expect the internet to give us yet another offensive Halloween costume to gawk at. In late September, it was pregnant Kylie Jenner. Before that, it was sexy fake news and sexy border patrol agents.
Now, courtesy of Yandy.com, it's a sexed-up Melania Trump, the first lady of the United States. What a time to be alive.
Of course this costume is not titled "Sexy Melania Trump" though, because that would be a step too far. Instead, it's called "Model Wife," with the costume itself a very obvious and close replica of the sky blue cashmere dress and jacket by Ralph Lauren that Melania Trump wore on Inauguration Day.
Things get a bit more revealing in this costume than what Trump actually wore on that dreary January day however, with the $70 ensemble only consisting of a cropped jacket and a skirt, so the stomach remains exposed.
"Stand by your hubby in this exclusive Model Wife costume featuring a blue crop top with 3/4 length sleeves, a high collar, a wrap front with velcro closure, and a matching high waisted skirt," Yandy wrote in the description, noting that the white gloves aren't included. (On Inauguration Day, Trump's were blue.)
In a press release from Yandy, its inspiration was made a bit clearer. "Inspired by a certain someone's inaugural ensemble by a Polo-playing design legend, this blue (Tiffany anyone?) sexy take would make you welcome at any house regardless of the color from Milan to Washington," the release read.
What's most curious about this outfit is that it exists at all. For years, presidents have been fair game during Halloween, with rubber masks that look like Bill Clinton, George Bush and Barack Obama still on the internet today. There were Donald Trump masks even before this Halloween cycle and even a sexy, feminized Trump costume. But as far as first ladies go, Halloween costume manufacturers have steered clear.
There have been Hillary Clinton masks and wigs, and (extremely poorly made) Michelle Obama masks, but we can't remember an entire pre-packaged costume created to resemble one of the first lady's outfits.
According to Yandy's vice president of merchandising, Pilar Quintana-Williams, the costume was meant to go with the sexy, feminized Trump costume.
"A man is nothing without a strong woman beside him," Quintana-Williams wrote in an email. "We couldn't leave our Donna T. Rumpshaker hanging, so we created its counterpart this year and did so with an iconic style in mind."
We understand that Halloween costume-makers live to offend us, but the question still remains: Why is this happening to Melania Trump first? Well, maybe it's because of how obsessed we all are with what she's wearing. Less than a year into her time as first lady, Trump's got herself an outfit iconic enough to make a Halloween costume.
Or, maybe it's because people so strongly want to either be her or make fun of her. On Halloween, someone dressing up as a political figure can be taken two ways: They're either paying homage, or poking fun.
With this costume, it'd honestly be hard to tell.
Oct. 6, 2017, 12:29 p.m.: This post has been updated.