The US lost 33,000 jobs in September, though the unemployment rate continues to decrease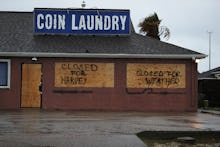 The number of workers on U.S. payrolls declined by 33,000 in September, figures released on Friday by the U.S. Labor Department revealed.
This is the first time the number has decreased since 2010, according to Bloomberg. Wall Street analysts had projected the number on payrolls to increase by 80,000, after the U.S. added 156,000 jobs in August.
Despite the payroll drop, however, other jobs figures continued to improve. The unemployment rate dropped from 4.4% to 4.2%, making it the lowest rate since February 2001. Workers' average hourly earnings also increased by 0.45%, according to the New York Times.
The country's job losses may have more to do with the weather than the economy, though, as workers throughout Texas and the southeast faced disruptions due to Hurricanes Harvey and Irma. (Puerto Rico, which was devastated by Hurricane Maria, is not included in the Labor Department's figures, Bloomberg noted.)
"The numbers were certainly blown around a lot by the storms," Carl Tannenbaum, chief economist for Northern Trust, told the New York Times. "The interruptions created in the hurricane regions were seen in leisure and hospitality especially, which had a huge decline."
An estimated 1.47 million people were unable to work due to weather in September, Bloomberg noted, the most since January 1996. Payrolls in restaurants and bars declined by 105,000, as many workers in the industry will only be on the payroll if they show up for work, which may not have been possible in the wake of the hurricanes.
The drop in employment in the food service industry may have also affected September's reported wage increase, Gus Faucher, chief economist at PNC Financial Services Group Inc., told Bloomberg. The industry is typically lower-paying, meaning the reported rise in earnings could be more of a "compositional mix than a surge in wage growth."
President Donald Trump had not yet weighed in on Friday's mixed jobs report as of Friday morning, after taking to Twitter Thursday to boast about the country's low unemployment figures.
Trump has taken credit for positive jobs reports throughout his presidency, even after decrying the Labor Department's unemployment numbers as "totally fiction" on the campaign trail. In August, the president tweeted: "Excellent jobs numbers just released — and I have only just begun."
The New York Times noted in August, however, that most of the country's positive economic growth during the Trump administration can be attributed to trends that began during the administration of former President Barack Obama, who left office in January with an unemployment rate of 4.8%.