Trump administration is set to weaken Obamacare's birth control mandate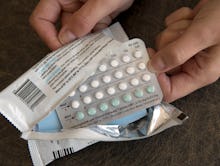 The Trump administration is set to issue a rule as early as Friday that will weaken the birth control coverage mandate created by the Affordable Care Act, allowing more employers to cite moral or religious objections that allow them to exclude contraception coverage in their health insurance plans, the New York Times reported.
The move could lead hundreds of thousands of women — who thanks to the ACA had their contraception fully covered by their health insurance plans — to now pay out of pocket for their birth control.
The ACA currently requires health insurance plans to cover at least one method from of 18 approved categories of contraception with no co-payment. Then-President Barack Obama created the rule because he felt that contraceptives protected women's health, something he felt was within the government's interest.
Currently, more than 55 million women can access birth control without co-payments thanks to the ACA, according to a study from Obama's Department of Health and Human Services. The rule has led to a decrease in out-of-pocket spending on drugs, with contraceptive pills accounting for 63% of that decrease, according to a report from the Kaiser Family Foundation.
The Trump administration, however, is poised to allow more employers to cite religious or moral objections to include contraception coverage in their health care plans. A number of religious and charitable organizations have sued over the rule, saying it infringes on their religious beliefs.
Part of the reason the Trump administration is rolling back the mandate is because they feel the mandate promotes "risky sexual behavior," according to the New York Times.