As long as men like Harvey Weinstein run Hollywood, we will not see true parity for women in media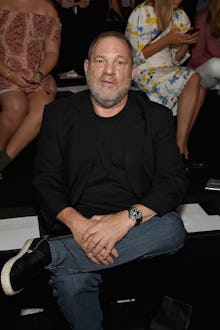 According to a searing report the New York Times released Thursday, Hollywood mogul Harvey Weinstein has been accused of sexual harassment over several decades. He has also reportedly been involved in at least eight settlements with women who brought forward accusations of sexually abusive behavior. The accounts from women in the Times piece are all eerily similar: Ashley Judd said he asked her to join him for a meeting in his hotel suite, came out in a bathrobe and asked her to watch him shower; Italian model and actress Ambra Battilana told police he groped her breasts while they were meeting; others reported being prompted to massage him while he was in varying states of undress.
In a statement to the Times, Weinstein apologized for his behavior, saying he "came of age in the '60s and '70s, when all the rules about behavior and workplaces were different" and that he's learned since. He also apologized for the harm he has caused. In a surprising turn of events, he has on his legal team Lisa Bloom, a lawyer most recently known for representing women who have come forward with harassment claims against powerful men like Bill O'Reilly.
Some admission of wrongdoing is perhaps better than a flat-out denial, but the fact that Weinstein successfully garnered power and fame despite these decades of accusations (which some have said were well-known within the industry) tells hard truths about our willingness to overlook bad behavior from men when they make stuff we like. "Came of age in the '60s and '70s" can also be code for a time when "men could be men" and had no impetus to respect the bodily rights of women. It's a similar attitude to the one that heralds Hugh Hefner as a progressive icon when he literally built an empire on the exploitation of women's bodies, or that brushes away Donald Trump's admission of "pussy grabbing" to "locker-room talk."
Consider how the now-deceased Roger Ailes and the now-fired Bill O'Reilly both racked up sexual harassment allegations before they faced any consequences. Or how R&B singer R. Kelly has allegedly been using his position of power to manipulate women for decades, since his first high-profile sex scandal. Or how Bill Cosby allegedly used his tremendous influence in the entertainment industry to drug and assault women (many of them young, aspiring actresses) over an almost 50-year span. Or how both Woody Allen and Roman Polanski have documented histories of abuse allegations, and both continue to create new films.
Almost all of these men faced public accusations, and yet they have continually received passes by the very people who could hold them accountable: audiences. Somehow, the people who enjoy the things they create — movies, television shows, music — manage to overlook what they consider the "personal lives" of men that make them, even when the cost of that creation is the harm of women.
It is dangerous to write him off as bad apple or a "dinosaur" that doesn't know better, especially when he is a power player in an industry that thrives off the exploitation of women's bodies, on-screen and off. The entertainment industry has sexism rooted in its very core: Imagine being an aspiring actress, reporter or writer trying to navigate the fickle and murky world that started with "casting couches" and continues to be a competition to find the next thinnest, hottest, prettiest, sexiest woman the world has ever seen.
It is chilling to think of the long-term, cascading, deep influence of the bad behavior of Weinstein and men like him — how many women's lives are impacted, women who were too afraid to come forward, women who looked for support and to build their own careers only to walk away ashamed or humiliated. These women had dreams to be in movies, to star in or direct them, to produce or write themselves into the entertainment industry and were never able to. It's crushing that that's no surprise.
If we want diversity in films, in Hollywood, in the stories the define our culture — we need parity at the absolute top. To achieve that, we need to be able to call out the men that perpetuate abuse without fear.