While You Weren't Looking: 5 stories from the Trump Cabinet this week that don't involve bump stocks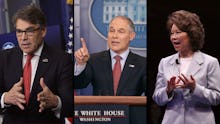 This week was marred by yet another horrific American mass shooting, which turned the nation's, and the media's, attention toward the epidemic of gun violence in the country.
But as the tragedy unfolded, President Donald Trump's Cabinet continued to make major policy decisions that will affect many people's lives. Here are a few stories from the Trump administration you might have missed.
Perry and Chao join the ranks of Trump's frequent-jet-flyer Cabinet
Just one day before Health and Human Services Secretary Tom Price resigned following controversy over his use of chartered jets, Energy Secretary Rick Perry took his own chartered flight to Ohio, according to a report in Reuters published Wednesday.
Just one day after the Perry revelations, the Washington Post broke the story that Transportation Secretary Elaine Chao used government planes for seven different flights.
Perry and Chao join the growing list of current and former Cabinet officials who have used noncommerical flights, which also includes Interior Secretary Ryan Zinke and Treasury Secretary Steve Mnuchin.
Trump administration rolls back the ACA's birth control mandate
The Trump administration on Friday rolled back a key provision of the Affordable Care Act requiring employer-sponsored health care plans include birth control.
Prior to Friday's rule change, any for-profit business would have to seek a religious justification in order to be exempt from the rule. Now, in addition to religious exemptions, businesses can seek a much broader "moral" exemption to providing health care that covers birth control.
HHS officials say employers will not have to file any paperwork to seek the exemption, making it an effective nullification of the Obama-era rule.
EPA getting ready to roll back Obama-era power plant regulations
The Environmental Protection Agency is preparing to roll back an Obama-era regulation curbing greenhouse gas emissions from U.S. power plants, according to a report in Bloomberg News.
Documents obtained by Bloomberg reportedly show that the agency will argue the rule was unlawful when first implemented. They do not lay out any plans for a replacement rule.
The rule had been set to go into effect but was held up because of court challenges and was never actually implemented.
EPA spokeswoman Liz Bowman told Bloomberg that the Obama administration "pushed the bounds of their authority" by creating the regulation in the first place.
Report: Trump told HHS to deny a request to fix Iowa's health care system
Trump told the Department of Health and Human Services to deny a request from the state of Iowa for permission to let it try to shore up its health insurance market, according to the Washington Post.
Iowa had been seeking permission under the Affordable Care Act to take measures to fix its ailing health insurance market ahead of open enrollment in November.
According the Post, Trump learned about the efforts from a story in the Wall Street Journal and reached out to both then-HHS Secretary Tom Price and Centers for Medicare and Medicaid Services Administrator Seema Verma to tell them to deny the request.
The move comes amid accusations by Democrats that Trump is attempting to sabotage the Affordable Care Act.
ACLU sues FDA over restrictions on abortion pill
The American Civil Liberties Union filed a lawsuit against Trump's Food and Drug Administration for restrictions placed on a key abortion drug.
The restrictions place limits on where the pill, Mifeprex, can be obtained, prohibiting retail pharmacies from carrying the drug and forcing patients who need it to travel to a hospital or facility that has preregistered with the drug's manufacturer.
"The FDA's unique restrictions on medication abortion are not grounded in science — this is just abortion stigma made law," Julia Kaye, a staff attorney with the ACLU Reproductive Freedom Project, told the Hill.
The ACLU says the rules violate Supreme Court precedent that says access to abortion services cannot be restricted without a valid medical justification.