Report: Mueller's team met with author of explosive Steele dossier in Trump-Russia investigation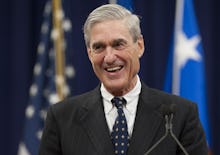 Investigators working for special counsel Robert Mueller met with former British spy Christopher Steele — the author of a now-infamous dossier containing explosive allegations about President Donald Trump and Russia — over the summer, CNN reported late Thursday.
While it wasn't immediately clear what Mueller's team learned from the ex-MI6 officer, the meeting indicates that investigators take the dossier and its claims seriously.
The dossier — which actually consists of a series of raw intelligence reports — alleged that the Kremlin had been "cultivating, supporting and assisting Trump for at least five years" with the aim of encouraging "splits and divisions in western alliance." It also contained the salacious claim that Russians had a video of Trump in a Moscow hotel room with prostitutes performing a "golden shower" show on a bed previously slept in by Barack and Michelle Obama, the former president and first lady.
Trump has vociferously denied the "phony" report since it came to light in January, calling it "FAKE NEWS" and dismissing Steele as a "failed spy."
But the general thesis of the report — that Russia intervened in the 2016 presidential election — aligns with the findings of the United States intelligence community, and the intelligence provides "an overarching framework for what might have happened based on individuals on the Russian side who claimed to have insight into Moscow's goals and operational tactics," former CIA official John Sipher wrote on the Just Security blog in September.
"Until we have another more credible narrative, we should do all we can to examine closely and confirm or dispute the reports," Sipher wrote.
News that Mueller's team traveled to Britain to meet with Steele came a day after Richard Burr and Mark Warner — the duo leading the Senate Intelligence Committee's Russia probe — announced that they had "hit a wall" in their attempt to verify the dossier because the former intelligence officer would not respond to requests to meet with their panel.
"The committee cannot really decide the credibility of the dossier without understanding things like who paid for it, who are your sources and sub-sources," Burr told reporters. "Though we have been incredibly enlightened at our ability to rebuild backward the Steele dossier up to a certain date, getting past that point has been somewhat impossible."
Mueller's FBI investigation into possible collusion between Trump and Russia, however, has been more high profile than the congressional probes, and has intensified in recent months.
Trump, however, has maintained that he is the victim of "the single greatest WITCH HUNT in American political history."