Right-wing gamers are furious about the American Nazi-killing in 'Wolfenstein II'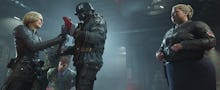 In 2017, taking an anti-Nazi stance is somehow a controversial political statement.
In a new promotional tweet for its upcoming video game, Wolfenstein II: The New Colossus, developer Bethesda shared a video clip of Nazi soldiers marching, with the caption "Make America Nazi-Free Again. #NoMoreNazis #Wolf2."
The video itself is just a few seconds long, depicting orderly lines of Nazi soldiers (the game's main foe) with the text "Not my America" superimposed on top of it.
The Wolfenstein account's co-opting of Donald Trump's presidential campaign slogan, "Make America great again," has rubbed some of its more conservative players the wrong way.
"Oh wow, what a clever marketing trick: tapping into hysterical leftist power fantasy," one Twitter user wrote, according to a screenshot posted by @MiraVylash. "So current. So subtly political. Wow. Go fuckyourselfs [sic]."
"Cool," another user wrote. "Didn't know Bethesda teamed with SJWs and ANTIFA!"
Conservative backlash against Bethesda isn't limited to Twitter. As of this writing, a post on the front page of Gamergate subreddit /r/KotakuInAction reads, "Wolfenstein 2 is supposed to be non-political but is blatantly likened to Donald Trump's campaign slogan, Twitter replies proceed to go on about the alt-right and modern Nazis."
The comments on this Reddit post are filled with anti-Semitic jokes and conspiracy theories. But generally, these redditors seem to take issue with the ways in which Bethesda and many news outlets (including Mic) have noted that Wolfenstein suddenly feels more politically relevant than when the series debuted in 1992.
"Don't inject leftist propaganda and take advantage of current events in our political landscape to try and sell your product and expect anyone with half a brain to not notice," one /r/KotakuInAction member wrote.
"I'd prefer if they went full boneheaded satire with literally making Trump hitlerrobotman [sic], at least it would be kind of funny," another user wrote. But this baiting of Trump supporters to get mad about associating their beliefs with Nazism, in order to say 'whoa dude you dislike this so you must support NAZIS!?!!!' is aggravating."
According to an interview with GamesIndustry.biz, Bethesda is aware of the series' newfound relevance in the wake of the rise of white nationalism in the U.S.
"We're certainly aware of current events in America and how they relate to some of the themes in Wolfenstein II," Pete Hines, vice president of public relations and marketing at Bethesda, told GamesIndustry.biz. "Wolfenstein has been a decidedly anti-Nazi series since the first release more than 20 years ago. We aren't going to shy away from what the game is about. We don't feel it's a reach for us to say Nazis are bad and un-American, and we're not worried about being on the right side of history here."
This is in line with what Bethesda has been saying about the new Wolfenstein for a while now — that the latest game wasn't conceived with the rise of white supremacy and the alt-right in mind, but it acknowledges the implications of shooting Nazis in a video game in 2017.
"In Wolfenstein's case, it's pure coincidence that Nazis are marching in the streets of America this year," Hines said. "And it's disturbing that the game can be considered a controversial political statement at all."