Trump to late-night comedians: Your jokes about me are "unfunny"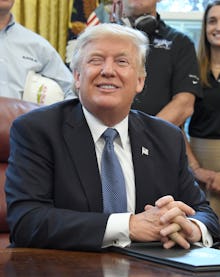 President Donald Trump — teller of jokes, master of impressions — roasted "unfunny" comedy writers Saturday morning, tweeting that "more and more people" are tired of he and his fellow Republicans getting ribbed by late night hosts.
The tweets apparently came, as they often do, shortly after Trump's favorite show, Fox and Friends, aired a segment on late night comedians' political engagement.
Trump — who has taken umbrage in the past over "unfunny" jokes about him, especially on Saturday Night Live — seemed in his tweets to be referencing an FCC rule stipulating that candidates for public office be granted equal time on broadcast TV and radio stations.
But he will not be a candidate for office again until 2020, so the rule would not seem to apply here. The code also deals with "appearance[s] by a legally qualified candidate" in interviews and newscasts and would consequently seem not to apply to Stephen Colbert's sick burns on the president or Jimmy Kimmel's emotional pleas for adequate health care and reasonable gun control.
In other words, as Tonight Show writer Mike DiCenzo put it in a Saturday morning retort, "that's not how it works."
In his weekly Saturday morning tweetstorm, Trump also slammed NBC News for their "knowingly inaccurate" reporting, saying the network is "not #1." But he did give a shout-out to the Washington Post for writing a "good story" about him — a piece on Trump fueling donations to the Republican National Committee ahead of the 2018 midterms.