Trump seeks health care deal with Schumer, who says Obamacare repeal is "off the table"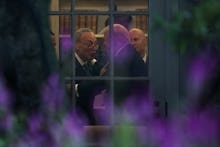 President Donald Trump phoned Senate Minority Leader Chuck Schumer in an attempt to cut a "great" deal on health care, he said in a tweet Saturday morning.
"ObamaCare is badly broken, big premiums," Trump tweeted. "Who knows!"
The apparent Friday phone call indicated that the president will be looking to make another push to repeal and replace the Affordable Care Act — and that he may try to play nice with Democrats to get a bill done.
Trump has long maintained that the ACA is "failing," but Republicans' attempts to get rid of it have repeatedly fallen short. Their most recent go at replacing it — a plan developed by Sens. Lindsey Graham (R-S.C.) and Bill Cassidy (R-La.) — failed to come up for a vote in late September when three Republicans announced they would not support it, even though the president had publicly attempted to rally his party behind it.
Perhaps seeking to recover from yet another legislative defeat, Trump has now reached out to Schumer in a possible return to the strategy he briefly adopted in September when he cut a debt ceiling deal with "Chuck and Nancy" — Schumer and House Minority Leader Nancy Pelosi — and discussed the Deferred Action for Childhood Arrivals program with them.
In a statement, Schumer indicated that while he is willing to work with Trump to "improve the existing health care system," repealing the ACA is "off the table." He also suggested that the president should support bipartisan discussions between Sens. Lamar Alexander (R-Tenn.) and Patty Murray (D-Wash.) to try to stabilize health care markets.
But it's not clear Trump's base will back him if he attempts to cut another deal with top Democrats. According to Axios, some Republicans feel a move to stabilize the ACA rather than repealing it would be akin to admitting defeat — which could have ramifications for the GOP in the upcoming 2018 midterm elections.
"It codifies the [Republicans'] failure on repeal/replace and shows the president can move without hesitation or ideological impediment to make a deal with the Dems," a Republican source told the publication. "It depresses [Republican] base turnout in the midterms, as Trump voters are further disconnected from the Congressional wing."
Trump and Republicans' attacks on the ACA have cast a cloud of uncertainty over the future of former President Barack Obama's signature health care reform. That uncertainty is expected to result in higher costs for those in the individual marketplace, with regulators adopting a "conservative approach as a cushion against potentially sizable losses," the New York Times reported Tuesday.