This week in Trump-Russia news: Trump again seeks assurance he is not personally under investigation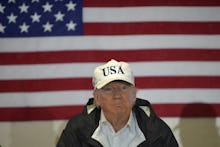 Lawyers for President Donald Trump will play ball with special counsel Robert Mueller's investigators — in hopes that Mueller will clear the president's name of wrongdoing in the ongoing Russia imbroglio.
That's according to a New York Times report Saturday that suggested Trump's legal team — led by attorney Ty Cobb — is shifting its strategy in its dealings with Mueller's probe, which accelerated over the summer and extended its reach into the White House.
"The White House believes the special counsel shares its interest in concluding this matter with all deliberate speed for the benefit of the country," Cobb told the paper, expressing a desire to draw the matter to a "prompt and decisive end."
But in return for their cooperation, the Times reported, the White House will ask Mueller to make a public announcement that Trump is not under investigation — something the president has sought since the early days of the Russia investigation.
Here's what you need to know about the Trump team's strategic cooperation — and other twists in the Trump-Russia story this week.
Cobb is complying with Mueller in hopes of clearing Trump
According to the Times' report, Trump's legal team has begun complying with Mueller's requests "for emails, documents and memos, and will make White House officials available for interviews."
That represents a marked shift in the way they've responded to the special counsel's Russia probe — at least in public. Trump, in particular, has lashed out against the special counsel and repeatedly described the investigation as a "witch hunt."
But there have been signs that Cobb plans on being more cooperative with the investigation; in September, he told another Trump attorney that he thinks the White House should "as many of the emails and documents requested by the special counsel as possible in hopes of quickly ending the investigation." That conversation happened over a steak lunch in Washington, D.C. — within earshot of a Times reporter.
The Senate is progressing in probe, but lack key answers
Of course, it's not only Mueller that's looking into Russia's 2016 election interference.
Lawmakers on the Hill have three probes of their own underway, and the two top investigators on the Senate Intelligence Committee offered a peek into their progress on Wednesday.
While Sens. Richard Burr (R-N.C.) and Mark Warner (D-Va.) indicated that their investigation had been able to confirm the intelligence community's conclusion that the Kremlin had interfered in the United States presidential election, they still don't know if Trump or anyone on his campaign colluded with them.
They have also been unable to completely verify the explosive dossier alleging the campaign colluded with Russia because its author, former British spy Christopher Steele, has not responded to their requests for him to meet with them.
Mueller met with dossier author
Steele has, however, met with special counsel Mueller's team, it was reported this week.
According to the reports, Mueller's team traveled across the pond to meet with the former MI6 agent over the summer. While it's not clear what was discussed or what the federal investigators learned, the meeting suggests Mueller takes the so-called dossier — which Trump has dismissed as "phony" — very seriously.
Steele's reports, which came to the public's attention days before Trump was inaugurated in January, alleged that Russian intelligence assets had been "cultivating, supporting and assisting Trump for at least five years" with the aim of encouraging "splits and divisions in western alliance." Perhaps most famously, Steele reported that Russians had obtained a video of prostitutes performing a "golden shower show" in front of Trump in a Moscow hotel room on a bed once slept in by former President Barack Obama and former first lady Michelle Obama.
Trump denied the veracity of the report.
Starr expects Russia investigation to lead to indictments
Remember Ken Starr? The independent counsel whose broad investigation in the 1990s led to former President Bill Clinton's impeachment? He has some thoughts on the Russia investigation.
In an appearance on CNN Saturday, Starr told host Michael Smerconish that he has a "sense that there will in fact be indictments" in the Russia probe, citing former Trump campaign chairman Paul Manafort and resigned national security adviser Michael Flynn as possible targets.
Flynn was forced to resign in February amid revelations about his conversations with then-Russian ambassador Sergey Kislyak. Manafort had his home raided in June by Mueller's team, who reportedly told him to expect an indictment.
Trump entrusts U.S.-Russia relations to Huntsman
Meanwhile, Trump met with Jon Huntsman — his new ambassador to Russia — on Friday, the White House announced.
He wished well the former Utah governor and envoy to China, whom he tapped as his ambassador to Moscow in July, as he leaves to "work toward improving our relationship with Russia."
In an interview on Fox and Friends — Trump's favorite television program — that same day, Huntsman told his daughter Abby, one of the show's co-hosts, that the relationship was "at an all-time low" but that he hopes to "achieve results in this relationship that are good for the people of America and good for the people of Russia."