Lawyer Lisa Bloom resigns as Harvey Weinstein adviser amid sexual harassment scandal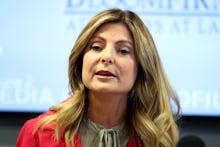 Lisa Bloom — the high-profile attorney who served as an adviser to Harvey Weinstein — has resigned amid the embattled Hollywood producer's ongoing sexual harassment scandal, she announced Saturday afternoon.
Weinstein was the subject of a bombshell report Thursday in the New York Times, which chronicled decades of predatory behavior on the part of the powerful producer.
Bloom — most recently known for representing women who had brought sexual harassment allegations against former Fox News host Bill O'Reilly — had come under fire for working on Weinstein's behalf and for seemingly downplaying his behavior as "an old dinosaur learning new ways" in a recent statement.
Bloom's mother, the attorney Gloria Allred, was among her harshest critics, saying in a statement on Friday that she would not have represented Weinstein.
"Had I been asked by Mr. Weinstein to represent him, I would have declined, because I do not represent individuals accused of sex harassment," Allred said in the statement.
Weinstein has blamed his actions on growing up in the 1960s and 1970s, "when all the rules about behavior and workplaces was different," and said that he was being "tutored" by Bloom and others for a year on how to "be a better person."
"I appreciate the way I've behaved with colleagues in the past has caused a lot of pain, and I sincerely apologize for it," he said in a statement Thursday.