One week after the Las Vegas mass shooting, here's where everything stands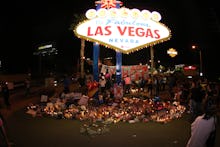 This Sunday marks a week since suspected shooter Stephen Paddock fired at a crowd of spectators at the Route 91 Harvest Festival from the Mandalay Bay Hotel in Las Vegas, Nevada, on Oct. 1, killing 58 people in the deadliest mass shooting in modern U.S. history.
In the days since the attack, new details have been emerging about the suspected shooter and the country has renewed its debate over gun control — potentially even inspiring some action from Congress.
Here's how things stand a week out from the tragic attack.
The investigation
While investigators still don't know the motive behind Paddock's decision to shoot, new details are emerging about the 64-year-old shooter and his actions before the Las Vegas attack.
Paddock, who reportedly was an avid gambler, began purchasing a high concentration of guns in September to October 2016, ABC News reported, and had spent a lot of time researching various hotel venues online. According to the Las Vegas Review-Journal, the shooter may have possibly considered venues near bigger music festivals, including the Lollapalooza festival in Chicago and Las Vegas's Life is Beautiful festival, as well as potentially considering Fenway Park as a possible target.
In the wake of the attack, ABC News reported that some law enforcement officials believe that Paddock may have had an undiagnosed severe mental illness, noting that the shooter had difficulties interacting with others and had been described as "standoff-ish [and] disconnected." According to a timeline posted by the Review-Journal, the shooter had been prescribed diazepam tablets on June 21, an anti-anxiety drug in a class known as benzodiazepines, which can trigger aggressive behavior.
Paddock checked into the Mandalay Bay hotel on Sept. 28, the Review-Journal noted, where he stayed in the 32nd-floor hotel suite that he fired at the crowd from after breaking two windows with a "hammerlike device." The New York Times reported that more than 20 guns and hundreds of rounds of ammunition were found in the hotel room. Many were AR-15 semi-automatic rifles.
Twelve of the rifles were outfitted with "bump stocks," an accessory that enables a gun to shoot at the speed of an automatic weapon, the Times reported, while two had "bipods" attached that would better allow Paddock to target specific individuals.
The killer also installed video cameras looking outside the hotel suite into the hallway, the Times reported, including one on a service cart and another over the peephole to the suite's door.
Also found on the scene was a note containing hand-written calculations about the shooter's location and target, CBS News reported.
"I could see on it he had written the distance, the elevation he was on, the drop of what his bullet was gonna be for the crowd," Officer David Newton from the Las Vegas Police Department's K-9 unit said in an interview on CBS's 60 Minutes. "So he had that written down and figured out so he would know where to shoot to hit his targets from there."
Despite the many details that have emerged, however, officials still remain puzzled by the lack of a clear motive explaining Paddock's extreme actions.
"Most of the time, you don't defend it, you don't accept it, but you hear the why," Steven B. Wolfson, the district attorney in Clark County, Nevada, told the Times. "I've been doing this a long time and I can't remember another homicide — and then you multiply what I'm about to say by 58 — where you don't know why."
The response in Washington
The federal government's response to the Las Vegas tragedy was a familiar one in the wake of mass shootings, as Democratic politicians responded with outrage while Republicans offered "thoughts and prayers" and maintained that the tragedy should not be "politicized" with a discussion on gun control.
"It is positively infuriating that my colleagues in Congress are so afraid of the gun industry that they pretend there aren't public policy responses to this epidemic," Sen. Chris Murphy (D-Conn.) said in a statement. "There are, and the thoughts and prayers of politicians are cruelly hollow if they are paired with continued legislative indifference."
"It's time for Congress to get off its ass and do something," Murphy continued.
President Donald Trump offered his "warmest condolences" to those affected by the tragedy in the immediate aftermath of the shooting, before making his way to Las Vegas on Wednesday to visit with victims and first responders.
"I have to tell you, it makes you very proud to be an American when you see the job that they've done," Trump said about the first responders in Las Vegas, as quoted by NPR. "And people who would not be around today are up there and they'll be leaving the hospital in a week or two weeks or five weeks."
The president also decried Paddock as a "very demented person" during his Las Vegas visit, though he added in an interview released Saturday with former Gov. Mike Huckabee that the shooter was "a sick person. But probably smart."
Though sweeping legislation on gun control remains unlikely in the wake of the Las Vegas shooting, there is one area where some progress is possible: bump stocks.
Democratic Sen. Dianne Feinstein introduced legislation Wednesday that would ban bump stocks and other devices that enable a semi-automatic weapon to mimic an automatic one, and though a similar bill failed in 2013, many Republicans — and even the National Rifle Association — appear to be on board with the ban in the wake of the Las Vegas shooting.
"Fully automatic weapons have been banned for a long time," House Speaker Paul Ryan said on MSNBC. "Apparently, this allows you to take a semiautomatic and turn it into a fully automatic. So clearly that's something we need to look into."
Media response
The media has also grappled with the ongoing discussion about gun control in the wake of the Las Vegas attack, highlighting the outrageous number of mass shootings that have taken place in 2017 and sparking discussion over the best ways to handle the gun epidemic that continues to shake the U.S.
In an op-ed piece for the New York Times, conservative columnist Bret Stephens argued for abolishing the Second Amendment completely, writing, "Americans who claim to be outraged by gun crimes should want to do something more than tinker at the margins of a legal regime that most of the developed world rightly considers nuts. They should want to change it fundamentally and permanently."
"There is only one way to do this: Repeal the Second Amendment," Stephens said.
Statistician and former FiveThirtyEight reporter Leah Libresco, meanwhile, argued in an op-ed for the Washington Post that while she remains anti-gun, after examining the data, the best way to go about reducing gun violence may be "narrowly tailored interventions to protect subtypes of potential victims," such as victims of domestic abuse or gang violence, rather than traditional gun control measures.
"A reduction in gun deaths is most likely to come from finding smaller chances for victories and expanding those solutions as much as possible. We save lives by focusing on a range of tactics to protect the different kinds of potential victims and reforming potential killers, not from sweeping bans focused on the guns themselves," Libresco wrote.
In addition to the raging discussion over gun control, the media was also quick to report on new developments in the wake of the tragedy — sometimes falsely. Facebook and Google were criticized for prioritizing false news stories about the tragedy and suspected shooter in the immediate aftermath of the tragedy, while People Magazine devoted an entire story to a supposed victim who, as it turns out, hadn't actually been affected by the shooting.