VP Pence tweets that he left an Indianapolis Colts game because football players were protesting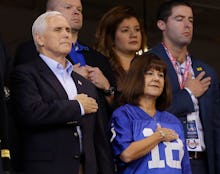 On Sunday afternoon, Vice President Mike Pence tweeted that he left a National Football League game between the Indianapolis Colts and the San Francisco 49ers because some players were protesting the national anthem.
"I left today's Colts game because [President Donald Trump] and I will not dignify any event that disrespects our soldiers, our flag, or our national anthem." Pence tweeted.
According to CNN, some players were kneeling when "The Star-Spangled Banner" played before the game. Their protest marks the third week of wide-scale demonstrations in the NFL.
Reporters covering Pence were not led into the game with the vice president, leaving some wondering whether this was a planned "political stunt."
Additionally, IndyStar pointed out that a selfie Pence tweeted on Sunday appeared to be the same one he used in 2014.
Almost an hour after Pence's statement, Trump tweeted to explain that he directed his vice president to leave Lucas Oil Stadium in Indianapolis if any players "disrespected our country" by kneeling during the anthem.
The president said that he was proud of Pence for leaving the game in protest of the football players' protest.
October 8, 2017 4:22 p.m.: This story has been updated.