Mic Wakeup: Pence and his protest, Trump and his beautiful paper towels, Kaepernick and his subtweet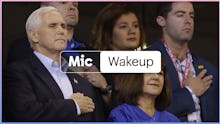 Here are three stories for Monday, Oct. 9, that will make you sound like you spent your Sunday reading a newspaper.
Pence protests protest — planned?
On Sunday, Vice President Mike Pence tweeted that he was so excited to be at Lucas Oil Stadium in Indianapolis for a Colts game against the San Francisco 49ers. About two hours later, he fired off an indignant tweet announcing that he'd left the game in protest because some football players were reportedly kneeling during the national anthem. But here's why some people think the whole thing was a political stunt.
Kaepernick appears to subtweet CBS
On Sunday, CBS' Jason La Canfora suggested that former 49ers quarterback Colin Kaepernick told him he would no longer sit out the national anthem if he played another game for the National Football League. Turns out the whole thing was actually fake news, and La Canfora never spoke to the quarterback about his protest.
Here's what Kaepernick had to say on Twitter following the debacle:
Trump gives a bizarre interview on Christian television
In a strange interview with Trinity Broadcasting, a Christian network, President Donald Trump claimed he invented the term "fake," praised Puerto Rico for its "beautiful" paper towels, accused Iran of funding North Korea without any evidence, explained why natural disasters like Hurricane Maria make him "feel good" and said suspected Las Vegas shooter Stephen Paddock was "probably smart."
If you have 27 minutes to spare, here's the whole thing.
Correction: Oct. 9, 2017