The Weinstein Company fires Harvey Weinstein following bombshell 'New York Times' report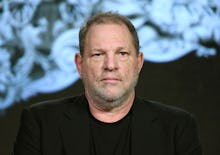 Hollywood producer Harvey Weinstein has been fired from the Weinstein Company following a bombshell report in the New York Times chronicling decades of alleged sexual harassment and predatory behavior.
The Weinstein Company announced the decision in a statement released Sunday evening.
"In light of new information about misconduct by Harvey Weinstein that has emerged in the past few days, the directors of The Weinstein Company — Robert Weinstein, Lance Maerov, Richard Koenigsberg and Tarak Ben Ammar — have determined, and have informed Harvey Weinstein, that his employment with the Weinstein Company is terminated, effective immediately," the statement said.
After the Times published its report Thursday, Weinstein released a statement attributing — at least, in part — his alleged behavior to the changing norms for propriety in the workplace.
"I came of age in the '60s and '70s, when all the rules about behavior and workplaces were different," the statement began. "That was the culture then. I've since learned it's not an excuse."
Later in the statement, he vowed to do better, and said he would channel his anger against the National Rifle Association and President Donald Trump.
Lisa Bloom, an attorney advising Weinstein, resigned from her post on Saturday amid backlash to her decision to work with him.