The Hype List: What to check out this week, including 'Marshall,' St. Vincent, 'Jane the Virgin'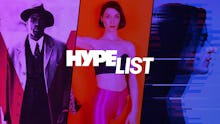 Welcome to the Hype List, a weekly recommendations series in which columnist Tirhakah Love highlights all of the pop culture happenings — movies, music, television, books and more — that you need to know about.
TV: Mr. Robot
The second season of Sam Esmail's eccentric Emmy-winning thriller was admittedly a slog — too slow and filled with episodes that were too long. And it felt as though the finale was trying to compensate, favoring spectacle over any real sense of closure. Elliot took a bullet in the gut, Dom finally revealed to Darlene that she and the other feds have been on her trail for a while, Joanna Wellick was gruesomely assaulted at the hands of Scott Knowles — they all made for flashy scenes but weren't necessarily satisfying from a plot standpoint. Luckily, after every unsatisfying season finale, there's always the chance for a revelatory season premiere.
Based on the third season's trailer alone, it looks like the shadowy conflict between fsociety, the mysterious Dark Army and Evil Corp will be clarified a bit. Naturally, fans should also expect the usual psychological intrigue and, according to star Rami Malek, we know that this year, characters' "loyalties will be tested." Alright, sophomore slump or no, consider us intrigued — we want to see who'll crack first.
Season three of Mr. Robot premieres Wednesday, Oct. 11, 10 p.m. Eastern on USA Network.
Music: Masseduction by St. Vincent
St. Vincent returns on Friday with Masseduction, the follow-up to her Grammy-winning, self-titled fourth album. While crafting her latest art-rock manifesto, the artist also known as Annie Clark adopted a clean lifestyle, free of alcohol and sex — her "monastic fantastic," as she recently told The New Yorker.
The extra level of focus comes through in the songs: Lead single "New York" is one of the most direct numbers she's released to date, and second sample "Los Ageless" bears some of her sharpest lyrics, as she observes, "The Los Ageless hang out by the bar/ Burn the pages of unwritten memoirs." Also helping the creative process: A host of collaborators, including songwriter-for-hire Jack Antonoff, virtuoso saxophonist Kamasi Washington and Top Dawg Entertainment producer Sounwave. Odds are this is the closest St. Vincent will ever come to a crossover effort.
Masseduction will be released on Friday, Oct. 13, via Loma Vista Recordings.
TV: Jane the Virgin
Following a season defined by heartbreak, Jane the Virgin resumes with its titular character finally reaching some closure over Michael's sudden death. There was no shortage of grief in the most recent run of episodes and, on top of all that, Jane was also busy dealing with the pressures of being a single mom. Thankfully, season three ended with a look ahead to a promising future, as Jane reconnects with an old love. In May, creator Jennie Snyder Urman said the new batch of episodes would be about "recapturing the joy," adding, "I want to see [Jane] go after her happiness, I want to see her open herself up to a new, evolved version of 'happily ever after.'" Funny, we're hoping for the same thing.
Season four of Jane the Virgin premieres on Friday, Oct. 13, 9 p.m. EDT on The CW.
Movie: Marshall
Despite what movie studios might have you believe, Chadwick Boseman does not bear an uncanny resemblance to every exceptional Black man in American history. Still, his portrayals of James Brown (Get On Up) and Jackie Robinson (42) are undeniable — filled with strength and magnetism, two qualities he exudes in his latest role, that of a young and naturally idealistic Thurgood Marshall.
Directed by Reginald Hudlin, Marshall retells the story of one of the earliest cases in the eventual Supreme Court Justice's legendary career. Taking place in 1940, more than a decade before the historic Brown v. Board of Education case, the film follows Marshall as he defends a black chauffeur in Connecticut, Joseph Spell (Sterling K. Brown), who's accused of rape and attempted murder by his white employer, Eleanor Strubing (Kate Hudson). Early reviews acknowledge that Marshall doesn't reinvent the courtroom drama, but are quick to note that its star doesn't disappoint. Boseman might not look like every aspirational brother out there, but he sure can play us onscreen.
Marshall will be released in theaters on Friday, Oct. 13.
Comic: Falcon #1
Any time there's a major, universe-wide relaunch in comic books, it's easy to write the whole thing off as a cynical move from a publisher desperate for headlines and eyeballs — for example, check out the upcoming Marvel Legacy shakeup. But, hey, maybe the new Falcon title could prove me wrong. The single-issue Legacy event reverts characters like Sam Wilson's Captain America and Jane Foster's Thor back to their original forms — meaning tried-and-true white guys like Steve Rogers and Thor will be back in costume.
It also means that Wilson will resume his mantle of Falcon. Writer Rodney Barnes — known for his work on the gut-busting comedy The Boondocks — and artist Joshua Cassara task Falcon with a new assignment: training his new partner, Rayshaun Lucas, aka The Patriot, and tending to street-level crime. It's not everyday that Marvel actually hires a black person to write black stories — especially when they're busy returning a bunch of characters to the status quo — so we'll take the win where we can get it.
Falcon #1 will be available digitally and in stores on Wednesday, Oct. 11.
Movie: The Meyerowitz Stories (New and Selected)
Another week, another notable film making its debut on Netflix. In the streaming service's latest coup, Noah Baumbach enlists Adam Sandler, Ben Stiller and Dustin Hoffman to explore the peculiar journey of an acclaimed artist's children. The Meyerowitz Stories (New and Selected) follows divergent siblings Danny (Sandler), Matthew (Stiller) and Jean (Elizabeth Marvel) across New York as they prepare to honor their incorrigible father, Harold (Hoffman), when his sculpting work is featured in a group exhibition.
Papa Meyerowitz, now in his 70s, can't stop thinking about his mortality and the legacy that he'll leave behind — a legacy that has created an undue amount of tension within the family. Baumbach, the son of an artist himself, imbues The Meyerowitz Stories with an amusing but affecting cleverness that belies the idea that its two leading men are one-trick hacks incapable of doing serious work. If all that doesn't have you curious, take note: Critics are fawning over The Meyerowitz Stories, with some touting it as the best Netflix original film to date.
The Meyerowitz Stories (New and Selected) will be released on Friday, Oct. 13, via Netflix.
Music: Morning After by Dvsn
It's not much of a secret that, creatively speaking, male-driven R&B has been in a bit of a rut lately. All throughout 2017, it's been the ladies who have been leading with the most forward-thinking takes on the genre, while the guys have largely traded real sensuality for tripped-up dry-hump tunes that leave subtlety at the bedroom door. But the talented Toronto duo Dvsn — consisting of singer Daniel Daley and producer Nineteen85 — pick up the slack by blending seductive melodies, sturdy beats and a hazy atmosphere that blankets everything like a neon red light. Cuts like "P.O.V" — wherein Daley sings, "Nothin' turns me on like a woman's perspective/ Always come for you, just the way you expect it" — make it especially clear that chart-dominating crooners have turned sextasy into a selfish act. Here's to looking forward to the Morning After.
Morning After will be released on Friday, Oct. 13, via OVO Sound.