After an ad showing a black woman turning into a white woman, some customers are #DoneWithDove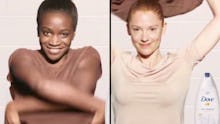 On Saturday, the beauty brand Dove posted a three-second video clip on Facebook, advertising its latest body wash. In that three seconds, a massive controversy was born.
In the clip, there were three women of different ethnicities. As one woman took off her T-shirt, which matched her skin tone, she transformed into another woman with a different skin tone.
That imagery of a darker-skinned woman turning into a lighter-skinned woman, with Dove soap right beside her, is what thousands of customers have taken offense to.
Although Dove swiftly pulled the clip, people were able to screenshot it, and thousands of people online began to discuss. To model Munroe Bergdorf, who was recently fired by the beauty brand L'Oréal after speaking out against white supremacy, this ad showed the beauty industry's diversity problem not only in its castings, but within companies themselves.
"Brands just aren't including people of color in these campaigns in a consultancy capacity to make sure they get it right," Bergdorf wrote on Instagram. "If you want to sell product to us, then put in the work. Hire us. Don't just see us as a source of revenue."
"This just isn't good enough," she continued. "The fact that this must have gone through so many sign-offs before reaching the public. Shows that you're either not hiring POC or not listening to them when they voice their concerns. Do better. We deserve better."
Many others have also laid blame on the company itself, for even approving this ad.
As many found out with some digging, this isn't the first time Dove has been accused of racist imagery. In 2011, Dove released an ad for its VisibleCare body wash showing three women standing in a row, with the word "before" above the woman with the darkest skin, and "after" above the woman with the lightest skin.
As Gawker wrote at the time: "Dove VisibleCare body wash: 'Visibly more beautiful skin.' Bye-bye black skin, hello white skin! (Scrub hard!)"
What consumers found too is that soap ads themselves have a long history of blatant racism, with imagery of black people being washed and then looking lighter.
And now here is Dove, showing visuals akin to those used in the 19th century. Over the weekend, Dove apologized for this recent ad on both Twitter and Facebook.
"Dove is committed to representing the beauty of diversity," it wrote on Facebook. "In an image we posted this week, we missed the mark in thoughtfully representing women of color and we deeply regret the offense that it has caused."
In a statement to Mic on Monday morning, the company elaborated: "The visual was intended to convey that Dove body wash is for every woman and be a celebration of diversity, but we got it wrong and as a result offended many people. We are deeply sorry. We have removed the post and have not published any related content. We do not condone any activity or imagery that insults any audience. We are re-evaluating our internal processes for creating and reviewing content."
But regardless of any apology, hashtags like #DoneWithDove and #DoveIsRacist have gained traction, as more and more people are vowing to never buy a Dove product again.
Now rather than continuing to buy and support Dove, some customers are turning to black-owned soap and beauty brands as their own response.
So maybe something good can come as a result of this level of controversy.