The danger for DACA recipients grows as Trump returns to his hardline immigration priorities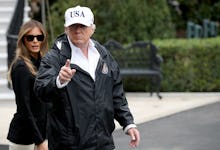 Welcome to Mic's daily read on Donald Trump's America. Want to receive this as a daily email in your inbox? Subscribe here.
Every day, we bring you a different dispatch on Trump's America. Today's focus: DACA recipients imperiled.
Monday's dispatch: The looming immigration battle
A month ago, it appeared Democratic leaders found a way to make President Donald Trump commit to protecting recipients of the Deferred Action for Childhood Arrivals program without funding for a border wall or expanded deportation. Sen. Chuck Schumer (D-N.Y.) and Rep. Nancy Pelosi (D-Calif.) crowed that they had hammered out a deal for Democrats that was a policy and political victory.
But Sunday night brought news that the immigration hardliner president would not so easily deliver compromise palatable to Democrats and alienating of conservatives.
In a letter sent to Congress, Trump announced what he expects from lawmakers in exchange for protection of DACA recipients. They include funding for a border wall, deporting children and their families who entered the United States illegally, hiring 10,000 border patrol agents, more swiftly removing people who overstay visas, changing how immigrants can obtain green cards and much more.
At a time when a majority of House members support a path to citizenship for DACA recipients, Trump's priorities make it impossible to reach a deal that protects DACA recipients and funds his goals. They'll win zero support among Democrats in Congress. And many moderate or Hispanic Republicans will take issue with them.
Yet these proposals are Trump's campaign promises boiled down to policy. Immigration is a key motivator of Trump's core supporters. His most high-profile policy moments have come in keeping campaign promises to his base — like the iterations of the so-called "Muslim ban."
"We told the president at our meeting that we were open to reasonable border security measures alongside the Dream Act, but this list goes so far beyond what is reasonable. This proposal fails to represent any attempt at compromise," Pelosi and Schumer said in a statement.
Some Democrats have already threatened to support a government shutdown in December if Trump does not protect DACA recipients without strings attached. There are months of negotiation to go, but Trump's announcement is a reminder to Democrats of who is in the White House.
Key things to know about Trump's immigration priorities:
• Fund and build the wall on the U.S.-Mexico border
• Deport unaccompanied and undocumented children and their families
• Current law dictates releasing the vast majority of those children into the country, the White House said.
• Make it more difficult for undocumented people seeking asylum to enter the U.S.
• Grant green cards based on merit and not family ties to the U.S.
• Resettle refugees in their home countries, not the U.S.
• Further restrict federal funding to "sanctuary cities"
Today's question: Were Democrats right to make a deal to keep the government open last month? Or should they have pushed for more immediate protection of DACA recipients?
Please email us at trumpsamerica@mic.com with your thoughts. And subscribe to read what other readers said.
This week in Trump's America:
Sen. Bob Corker (R-Tenn.) is kicking off the week with a debate about Trump's fitness to serve and the Senate's support of the "America First" agenda. Corker, who is not running for re-election next year, said Trump's actions threaten a third World War. He also said the White House had become an "adult day care center." Those comments followed Trump claiming Corker "begged" the president for re-election support. Corker denies that occurred.
The conflict comes as establishment Republican senators are facing backlash nationwide from Trump conservatives. Roy Moore beat Sen. Luther Strange in the Alabama GOP primary. Sens. Jeff Flake (R-Ariz.) and Dean Heller (R-Nev.) face tough primary opponents. And establishment Republican senators or candidates in Mississippi, Wyoming, West Virginia and elsewhere could face opposition.
Vice President Mike Pence spent more than $240,000 to attend and leave an Indianapolis Colts game on Sunday. Pence left the game after players kneeled during the national anthem, something Pence knew was likely. Many said he was looking for the opportunity to make a political statement to support Trump.
Senators are looking for a short-term, bipartisan fix to stabilizing the Affordable Care Act's individual markets. Premiums are set to jump substantially next year out of uncertainty around passing health care reform. Trump is also actively sabotaging the market's stability. Don't expect an announcement this week, but after Trump called Schumer looking for a deal over the weekend, a short-term fix is possible. Sens. Lamar Alexander (R-Tenn.) and Patty Murray (D-Wash.) are leading the talks.
Lawmakers will keep pushing for further regulation of advertising on large social media platforms. The Washington Post reported Google has also found ads that were bought by Russians to influence the 2016 election. Republicans have said they're open to joining Democrats in forcing Facebook and Twitter to share publicly who buys ads.
"We filtered out the mayor a long time ago," the FEMA administrator said of the San Juan, Puerto Rico, mayor who was attacked by Trump. About 12% of Puerto Ricans now have power and 57% have clean water. Only 7.7% of the island's roads are open.
New from Mic: "Interior Secretary Ryan Zinke's travel discrepancies raise questions about wife's role in department."
As Congress stares down the potential of the first major gun reform in 25 years (banning "bump stocks"), Mic explores the history of the U.S. gun culture — and who created it.
The House is in session. The Senate is not. Monday is a federal holiday.
Today's MicBite:
Dinesh D'Souza has created three of the top 10 grossing political documentaries of all-time. They are popular among conservatives — but aren't always based in fact. Mic's Jack Smith IV breaks it down. Tap or click the video below to watch.