Blitter: There's finally an app where Black Twitter can escape online harassment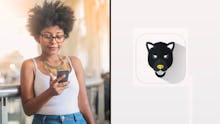 Twitter users know the best part of the service are its unofficial sub-communities. Entities like Weird Twitter or Bachelorette Twitter are highly entertaining, though few groups are as noteworthy as Black Twitter. The amorphous group of commentators is known for creating movements like #OscarsSoWhite and #IfIDieInPoliceCustody, as well as fun stuff, like Durag History Week.
Twitter's users provide it with interesting communities, but the service isn't perfect. If African-American users aren't facing the vice president denouncing acts of peaceful black protest, they're having to deal with the site's shoddy harassment management. Many are escaping to Blitter, an iPhone app for us by us.
The Blitter app looks a lot like Twitter. Timeline view, @mentions and picture sharing are all here. But the app is buggy, with quirks requiring you to tap the camera button before penning a status message. Aside from this, the interface is largely similar to what you see on Twitter.
Much like Twitter, you'll get a profile, activity and private messaging panes from within the app. Users can "like" Blitter posts as well — or "blits," as the site's founder calls them.
Upon signing up for Blitter, users automatically follow the service's official account on the Black Twitter app. Considering @Blitter has over 11,700 followers, it's clear the service has started to at least somewhat take off. Meanwhile on Twitter, the app is gaining buzz.
Here's how Twitter users are responding to the news of a literal Black Twitter:
We've seen Twitter replacements like App.net and Mastodon.social crop up in the past, only to struggle to catch on or fail. Facebook has seen clones too. Should history repeat itself, Blitter could see a similar fate. Though there's one reason why the service may actually catch on: abuse.
Twitter has shown that it's much more concerned with doubling the word count than solving the platform's harassment issues, which may come back to bite it.
"I have never heard of Blitter and I have not seen anyone talking about it, using it, or liking it," writer and prominent Twitter user Morgan Jerkins told Mic over direct message. "If Twitter doesn't do more to protect marginalized voices, particularly when it comes to harassment, they might have a competitor on their hands," Jerkins said.
Creator of the #OscarSoWhite hashtag, April Reign has yet to sign up for Blitter but is interested to see if the app takes off. "Obviously social media apps aren't mutually exclusive, but it's also not the first 'Black Twitter alternative' app in the making," Reign told Mic over Twitter DM. "I think it will be interesting to see if those who sign up for Blitter, specifically because they are disgruntled with Twitter, will actually delete or deactivate their Twitter accounts."
The arrival of a Black Twitter platform for Black Twitter users could see some traction, depending on how the site continues to handle its abuse problem. Though — as we've seen with past attempts at replacing large social networks — the road ahead will be a tough one for Blitter. Not to mention that part of Black Twitter's value is that when the community needs to bring awareness to the inadvertent whiteness of the Oscars, the right non-black voices hear it.
On top of these is the glaringly obvious downside: it only allows for 100 characters, much less than the magic number 280.