Here's how much it cost for Mike Pence to go to a football game and leave early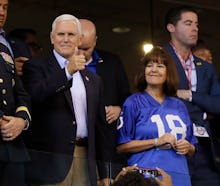 Vice President Mike Pence flew to his home state of Indiana on Sunday, ostensibly to watch the Indianapolis Colts play the San Francisco 49ers — but Pence left the football game shortly after arriving.
Minutes later, Pence said in a tweet that he left early because he didn't want to "dignify any event that disrespects our soldiers, our flag or our national anthem." So, how much did it cost taxpayers for Pence to show up at the game, only to turn around and leave? The answer, unsurprisingly, is probably a lot.
Pence's tweet referenced the silent protest by the 49ers players who chose to take a knee during the playing of the national anthem Sunday.
It was no secret some 49ers players have been participating in the growing #TakeAKnee protest against police violence. Given reports that press traveling with Pence had been told in advance the vice president would leave the game early — and considering President Donald Trump's quick Twitter response — many speculated Pence's early departure was a pre-planned display against the football players' protest.
If Pence's walkout was, indeed, an orchestrated publicity stunt, it was a costly one.
Taking into account the approximate cost of flying Air Force Two (around $30,000 an hour) and Pence's weekend travel (he flew from Las Vegas to Indianapolis on Saturday, and from Indianapolis to Los Angeles on Sunday), CNN estimated Monday that the cost of Pence's air travel alone was roughly $242,500.
If he had flown from Las Vegas to Los Angeles without stopping for the game, travel costs would have been closer to $45,000, CNN reported.
The $242,500 figure doesn't include the costs of Pence's Secret Service detail or security personnel on the ground, according to CNN, which means the real price tag is probably even higher.
Several lawmakers have spoken out about the taxpayer cost of Pence's stop at the Colts game. "Wait. This was orchestrated to make a point? That's not an inexpensive thing to do," Sen. Brian Schatz (D-Hawaii) tweeted Sunday.
Rep. Adam Schiff (D-Calif.) tweeted that "taxpayer money was wasted on this stunt," saying Pence's actions were especially notable after several high-profile scandals involving the travel expenses of some Trump Cabinet members.
In September, Health and Human Services Secretary Tom Price resigned after reports surfaced that his private jet travel cost taxpayers hundreds of thousands of dollars.
In addition, the New York Times reported Thursday that Treasury Secretary Steven Mnuchin's seven flights on military aircraft since March cost more than $800,000. Environmental Protection Agency Administrator Scott Pruitt has also flown on charter and military flights at a taxpayer cost of more than $58,000.