The untold story behind 'Mode' magazine, the 'Vogue' for plus-size women in the '90s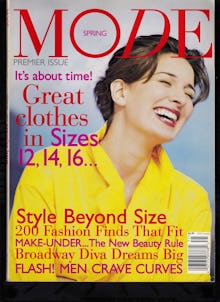 Imagine this: An issue of Vogue with a plus-size model front and center on the cover. Inside, there are only ads featuring plus-size women. The editorials, which are shot in exotic locations, are filled with plus-size women as well. Ads are from designers and brands that cater to women who are a size 12 or larger.
There's not a magazine like that now, despite body positivity being an outright movement, but there was a magazine like that in 1997.
In a time when heroin chic and slim-hipped androgyny was all the rage in fashion, a single plus-size-focused magazine called Mode was shaking things up, boosting the careers of not only plus-size models but also plus-size brands and designers.
"It was the first time that anybody could pick up that magazine, see plus-size models and enjoy it," Susan Georget, the famed casting director who started the curve division at Wilhelmina in 1994, said in a September interview. "[These models] had flesh and soul and heart, and they were sexy and vivid. You wanted to be them, or you wanted to be part of the scene they were shooting."
"Mode was everything," Liris Crosse, a plus-size model who appeared in many a Mode magazine and still works today, recalled in an interview. "It was the plus-size woman's Vogue. I wish it was out right now. We want to be blended in the mainstream, but I loved having something that was all our own."
Something for plus-size women that was all their own — that was just one of the things that was stirring in the minds of Nancy LeWinter and Julie Lewit-Nirenberg, two friends who had worked at some of the biggest fashion magazines in America, in 1996.
That year, the two started to ruminate about a magazine unlike any other. "We were sitting around and talking about how singularly focused on one kind of women all these magazines were," LeWinter, who now works as a lawyer and marketing consultant, said in a recent interview. "We didn't reinvent the wheel. We just said, 'Why shouldn't every woman deserve the same caliber of inspiration, ideas and empowerment that other women are receiving?' Our goal was to speak to all women."
The pair shopped around the idea, found one major financial backer, and started to reach out to all of their contacts from their years in magazines. From designers to makeup brands to stylists to photographers, to their surprise and delight, plenty were very interested in the idea of a quality magazine, with high-fashion editorials, aimed at plus-size women.
"There was some resistance in the fashion companies," LeWinter said. "Revlon got it right away. They were our first beauty advertiser. We didn't have a bunch of money, so we were begging people to work with us, but they did."
To really cement their status as a reputable magazine, the founders knew that their first cover, which debuted 20 years ago in 1997, had to be perfect.
LeWinter and Lewit-Nirenberg didn't pick an in-demand plus-size model, like Emme, Kate Dillon or Natalie Laughlin. They picked a relatively unknown woman, and had her laughing, wearing a bright yellow jacket.
"It's about time!" the issue announced.
"She had just put on some fabulous clothes, and she threw her head back and was so excited, because normally as a plus model she was relegated to very old-fashioned clothes," LeWinter said. "She just started laughing. That's when we realized this magazine wasn't about fashion, but validation and empowerment and lightening up. It was like this revolution that was starting for women who had never been told that they look great, or that they could look great."
That cover alone signaled to stylist Susan Moses, who was known for outfitting stars like Queen Latifah and Brandy, and working with fashion publications, that Mode was to be taken seriously.
"I was like, 'Oh my god, I have to get this magazine,'" Moses, who still works as a stylist, said in an interview. "The joy on the woman's face. Normally when a woman of a certain size is presented in media, she's not happy. Just the cover alone debunked all of that."
Shortly thereafter, Moses reached out to the Mode team, and became a regularly contributing stylist, styling her client Queen Latifah for a cover, and styling editorials.
It was those editorials, that were high-fashion and sexy and daring, as well as the covers, that brought attention to Mode as a publication. The founders ended up on the Oprah Winfrey Show, where they hosted a fashion show with plus-size models. Wilhelmina (with Susan Georget's urging) launched a modeling contest with Mode. Mode was named best new magazine launch of 1997 by Adweek.
"We all came there with our hearts in our hands," Moses said. "We were ready to show the world that all women matter in fashion. That fashion is not exclusive, it's for everybody. Nancy and Julie were visionaries. They allowed us to really be creative. We shot in locations like Costa Rica and estates in upstate New York. There was no limits. They treated this magazine like it was Vogue. You saw the pride and the joy in the pages."
Eventually the magazine's circulation grew to 600,000, with 10 issues a year. "It really was about attitude," LeWinter said. "It was the sense of just having fun, lightening up. Empowering people who hadn't been empowered up until then. We weren't celebrating size. We were celebrating women, and celebrating fashion. It was as simple as that. There wasn't any insidious empowerment. It was for all women. It was just the idea of, why shouldn't we have a good time with fashion?"
Mode became so powerful that when it asked Versace to design plus-size garments for its editorials, Versace bit. The same Versace that had just created a safety pin dress for Elizabeth Hurley wanted to do plus sizes, because Mode asked. Neiman Marcus agreed to sell Versace in plus sizes too.
"Versace doing plus? I mean, it was unthinkable," LeWinter said.
"I got to shoot with some of the best photographers in the business with Mode," Emme said in a recent interview. "They'd say, this is a job, this is a woman. Early on it was not like that. It was not fun to be in front of a photographer that was fearing his job would be questioned if he was shooting someone who's not a size 0 and six feet tall. With Mode, I was photographed like I had never been before."
Top plus models and actresses graced every issue, but after four years of inspiring and boundary-breaking covers, suddenly it was gone. According to LeWinter, after Sept. 11, Freedom Publications, which had backed 50% of the company, didn't want to be in New York, so they backed out of Mode. That was the beginning of the end. Mode couldn't financially sustain itself without those funds, and so Mode didn't have any choice but to close. Its last issue was October 2001, 16 years ago this month.
"It was like a period of mourning for a lot of us," Moses said. "It was a sad time because of 9/11, in New York especially. In fashion, after Mode closed, some of the plus apparel companies went out of business. The economy was having a hard time, and now they didn't have a place to advertise. It was dark for plus clothing, for the industry."
To LeWinter, 9/11 was devastating enough that the closing of Mode didn't hit her as hard as it would at any other time in her life. "If you really look at it, we did have an extraordinary run," LeWinter said. "We launched in '97. We won so many awards, did fashion shows, did modeling contests. Things that had never been done. Every magazine reflects the industry, but we were the industry. We supported the plus-size designers, whether they advertised or not. We did everything we could do to make our industry successful."
"We were in Trivial Pursuit!" LeWinter added. "The question was: What magazine promoted itself as 'style beyond size'? Imagine being so much a part of the culture that you are in Trivial Pursuit."
The magazine helped sustain the plus-size industry, and helped it grow. So what strikes LeWinter still is that the same exact questions they were asking in 1997 — Why aren't plus-size women appreciated in fashion? Why are plus-size women relegated to being the "other" in stores? — are still being asked today. The bottom line: There hasn't been as much progress as LeWinter had hoped.
"I think we totally changed the perception of women above a certain size," LeWinter said. "But when we closed, the industry fell back. Now we have people like Ashley Graham championing for us. That's great, but I still think it could be easier for plus-size women to get dressed every morning. There should be more options, and inspirations."
So, will there ever be another Mode? For Moses, she's all in. "There are still a lot of women who are struggling with body issues," she said. "There are only a handful of women who are curvy and consistently in the media. I really think there should be a place for advertisers."
But for LeWinter, she sees how magazines are fairing.
"I don't think in a magazine format," LeWinter said. "Do I think a site could do it? Absolutely. Millennials made it clear that they're not interested in a magazine format. They can get their inspiration in other ways. And I trust that they will. I think there is room right now for a Mode sensibility."
Asked for why she thinks Mode has remained so beloved by the people involved, LeWinter said simply: "The industry needed empowerment and freedom, and that's what we gave them."