A running list of Democratic officials pledging to return donations from Harvey Weinstein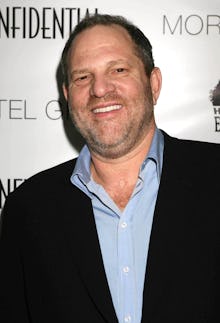 On Thursday, the New York Times published a report surfacing decades of sexual harassment allegations against Hollywood mogul Harvey Weinstein. Since that story was released, Weinstein's high-profile advisers quit, his company ousted him and three-time Academy Award winner Meryl Streep excoriated him.
But in the wake of the story, Weinstein's nearly 17 years of federal campaign contributions to the Democratic party — which total over $2 million, according to Business Insider — have become a political hot potato as Democrats distance themselves from the disgraced Hollywood producer who has funded their ambitions.
On Thursday, the Republican National Committee issued a statement urging its rival party to stand by its purported values and give any money received from Weinstein to charity.
"During three decades' worth of sexual harassment allegations, Harvey Weinstein lined the pockets of Democrats to the tune of three quarters of a million dollars," the statement said. "If Democrats and the DNC truly stand up for women like they say they do, then returning this dirty money should be a no-brainer."
Here's a running list of all the Democrats who have returned some portion of Weinstein's donations to them through the years.
The Democratic National Committee
In a statement, the DNC announced Friday that it would donate $30,000 of the $300,000 it received from Weinstein to groups that support Democratic women in politics, such as Emily's List. The DNC's decision to donate only a small portion of the money drew the ire of Republicans, some of whom characterized the gesture as an attempt by Dems to recirculate tainted money within their own party, rather than donating it to charities.
Gov. Andrew Cuomo of New York
Cuomo announced on Friday that the $50,000 Weinstein donated to his 2018 gubernatorial campaign would instead be given to organizations that support women's rights. At the time of the announcement, it was unclear which organizations those would be.
Sen. Debbie Stabenow of Michigan
A spokesperson for the Michigan senator told BuzzFeed that Stabenow would donate $4,800 she received from Weinstein to charity.
Sen. Kamala Harris of California
Harris said Thursday she would give $5,000 she received from Weinstein to women's rights nonprofit Equal Rights Advocates, according to the Los Angeles Times.
Sen. Al Franken of Minnesota
After the Minnesota GOP urged Franken to give back the nearly $20,000 he received from Weinstein, the senator said he would donate some portion of that money to Minnesota Indian Women's Resource Center, according to Minnesota Star Tribune.
Sen. Elizabeth Warren of Massachusetts
According to her spokesperson, Warren will be giving $5,000 she received from Weinstein to Casa Myrna, which is Boston's "largest provider of services to domestic violence victims," the Boston Globe reported.
Sen. Cory Booker of New Jersey
Booker's office affirmed Friday it would donate $7,800 the senator received from Weinstein to the New Jersey Coalition Against Sexual Assault, which "represents rape crisis centers in each of the state's 21 counties, and advocates for legislation centered on rape survivors," according to USA Today.
Sen. Patrick Leahy of Vermont
The Washington Examiner reported Thursday that Leahy would donate $2,700 he received from Weinstein to charity.
Sen. Martin Heinrich of New Mexico
Heinrich's 2018 re-election campaign said it would give the $5,400 it received from Weinstein to a nonprofit.
"Women shouldn't have to face sexual harassment at work," Heinrich's campaign said, according to Variety. "Martin is giving Mr. Weinstein's donation to Community Against Violence."
Sen. Richard Blumenthal of Connecticut
Blumenthal said he would donate $2,700 he received from Weinstein to the Connecticut Alliance to End Sexual Violence, according to WTNH.
Rep. Rosa DeLauro of Connecticut
According to WTNH, DeLauro will donate $1,000 she received from Weinstein to the Domestic Violence Services of Greater New Haven.
Sen. Chuck Schumer of New York
Minority Leader Schumer will donate all the money he received from Weinstein — totaling $16,200, according to BuzzFeed — to charity.
"Sen. Schumer is donating all of the contributions to several charities supporting women," the senator's spokesperson said.
Sen. Bob Casey of Pennsylvania
According to BuzzFeed, Casey will give $2,190 he received from Weinstein to the Women's Center and Shelter of Greater Pittsburgh.
Sen. Kirsten Gillibrand of New York
A senior adviser for Gillibrand told BuzzFeed that the New York senator would give all $11,800 she has ever received from Weinstein to the Rape, Abuse and Incest National Network — and encouraged Republicans to join her in donating to them.
Sen. Sheldon Whitehouse of Rhode Island
According to GoLocal, a news outlet serving Providence, the senator will donate Weinstein's campaign contribution of $1,000 to charity.
"The Senator's campaign is donating Mr. Weinstein's $1,000 contribution from 2011 to Day One, a Providence organization that supports victims of sexual assault," Meaghan McCabe, Whitehouse's spokesperson, said.
This is a running list that will be updated as more Democrats announce they will donate money the received from Weinstein to charity.